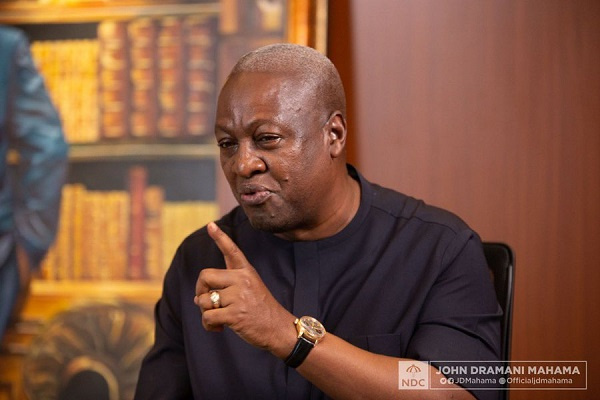 Flagbearer hopeful of the opposition National Democratic Congress (NDC) John Dramani Mahama has said he is disappointed with the turn of events in Parliament Friday, March 24, 2023, over the approval of the newly appointed ministers.
The former President says like many Ghanaians, his disappointment comes after some Minority Members of the Legislature voted in favour of the ministerial roles when "a couple of weeks ago, our NDC group in Parliament announced a principled position not to approve any new ministers until the President has taken steps to significantly reduce the size of his government."
He says the decision to reject the nominees which "was supported by a broad section of Ghanaians and public advocacy groups" was twisted by some self-seeking members of the Minority leaving himself and many Ghanaians saddened.
READ ALSO: Clergy frowns on 'shoot to kill' approach of ending galamsey
"Unfortunately, Ghanaians were sorely disappointed yesterday when several members of the Minority for some parochial and personal interest voted against the principled position adopted by the party.
"I am also disappointed," a post he made Saturday, March 25, indicated.
Mr. Mahama has asked "those responsible for this betrayal must do some serious soul searching and learn to place national interest over personal interest."
He also expressed disappointment in President Akufo-Addo for failing to cut down the size of government following the numerous calls from several quarters to do so when some of his ministers resigned on ill-health and also to pursue political ambitions.
READ ALSO: NDC lists 10 scams the NPP government has bequeathed Ghana
Meanwhile, Ghana's fourth President of the Fourth Republic assured Ghanaians after urging the NDC grassroots not to be despaired by the decision that, 2024 presents an opportunity for them to work hard to oust the reckless NPP government from power.
"Clearly in this time of crisis and excruciating hardships, President Akufo-Addo, his NPP administration and some of our MPs are out of tune with the mood of the Ghanaian people.
"I still believe, as I said in Ho recently, that in this time of crisis, government can still run efficiently with not more than 60 ministers.
"For our grassroots members and all Ghanaians who are disappointed by this insensitivity, I urge you not to despair.
"2024 offers us an opportunity to work hard to defeat this reckless government that seeks to destroy our democracy and the very livelihoods of Ghanaians- an opportunity for us to work and build the Ghana we all want from January 07, 2025," he urged.
READ ALSO: Approval of ministerial nominees: NDC MP lists greed, sabotage and friendship as reasons for breaking ranks
By Felix Anim-Appau|Onuaonline.com|Ghana