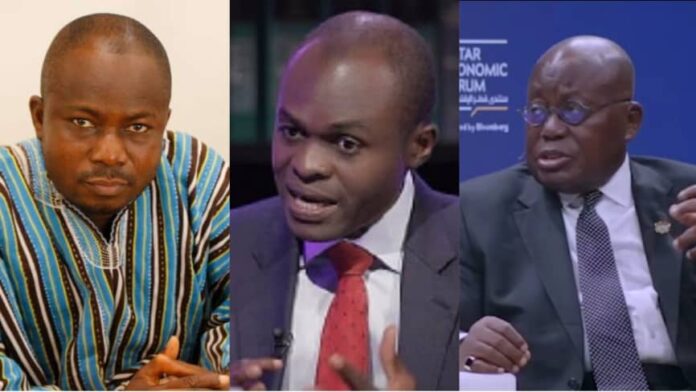 A deputy General Secretary of the ruling New Patriotic Party, Haruna Mohammed, has slammed private legal practitioner Martin Kpebu for refreshing the memories of Ghanaians over some 18 promises made by President Akufo-Addo and have not been fulfilled.
According to the party secretary, the NPP made their promises in their manifesto and the government cannot be held accountable for anything outside the document.
"We promised the people of Ghana through our manifestoes and I want to put it on record that we have not promised to build any 315 (350) secondary schools in Ghana. We have not," he said on the Key Points on TV3 Saturday, May 27, 2023.
His comments stem from some promises the President made which have not been fulfilled, read by Mr. Kpebu on the same show.
Meanwhile, host Alfred Ocansey retorted that functionaries of the NPP made these comments or promises on many NPP platforms and cannot be ignored because they did not find their way into the manifesto.
Regarding the 350 secondary schools which the deputy General Secretary mentioned, a video of President Akufo-Addo was played assuring a gathering that his administration will put up the structures as soon as they maintained power.
READ ALSO: Except Atta Mills, NPP-NDC are bad boys; Kpebu reminds Akufo-Addo of his 18 promises yet to be fulfilled
Mr. Mohammed, whilst refuting certain statements made by Mr. Kpebu further advised him to seek legal redress if he feels the President or any of his appointees is corrupt.
"…And to also mention and to talk about Akufo-Addo to fight corruption and all that, you're a lawyer, if you think Akufo-Addo is corrupt, please lawyer, go to court and get the person prosecuted," he told Alfred Ocansey Saturday.
In a sharp rebuttal,  Mr. Kpebu quoted a portion of page 20 of the Staff report of the IMF which reads "however, these indicators also suggest that, performance in government effectiveness, regulatory quality and control of corruption have deteriorated over the last 10 years."
"Over the last 10 years how many of them have been yours; six and counting. Now next time you tell me to go to court. You think it's everything that's taken to court. Very corrupt like that!," he responded.
But Mr. Mohammed insisting that the lawyer specifically referred to the President himself as corrupt instead of the government, Martin Kpebu said a fish rots from the head and if the President wasn't corrupt, corrupt activities would not be hovering around his administration.
He cited Databank, PDS, the BOST scandal, amongst others as some of the corrupt deeds the President has supervised.
READ ALSO: What happened to your 'Anas Principle' of curbing corruption? Kpebu asks Akufo-Addo