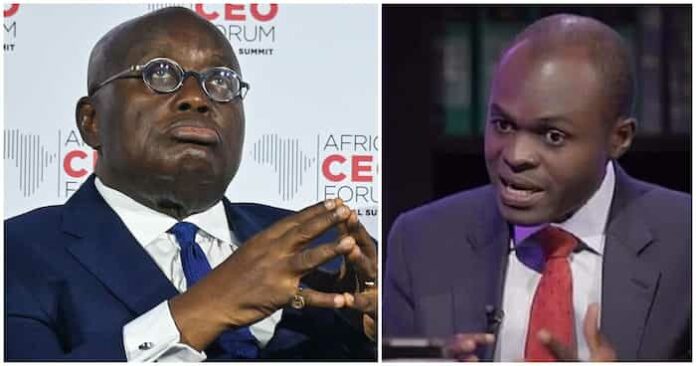 President Addo Dankwa Akufo-Addo has been reminded of one of the premises he promised to adopt to curb corruption prior to the 2016 elections which he appears to be forgeting in a hurry.
Pertaining the Prof. Frimpong-Boateng 37-page report on the Inter-Ministerial Committee on Illegal Mining (IMCIM), Private Legal Practitioner Martin Kpebu is perturbed over the insistence of the President on form over substance.
According to the lawyer, President Akufo-Addo as part of his promises told Ghanaians he was going to adopt the Anas principle which focuses on the substance rather than the form.
However, the same person is today claiming a report from his own minister he put in charge of a committee cannot be acted upon because it lacked a transmittal letter.
Mr. Kpebu has on the KeyPoints on TV3 Saturday, April 29, 2023, said substance is the practice being prioritised everywhere at the expense of form and that the President should embrace the very Anas principle he preached about when he wanted power.
READ ALSO: Pastor in police grips for assaulting woman over stealing allegations 
READ ALSO: No amount of insults, attacks, will stop me – Dr. Duffour
"You go into accounting they'll teach you substance over form. You come to law they'll teach you substance over form. Many other spheres of life you'll hear substance over form so this thing about there's no transmittal letter… was he not the one who was saying –the eighteen Akufo-Addo premises –that "I'll use the Anas principle" and someone brings you evidence no mean a person than a Professor, your own former minister of Environment, Science, Technology and Innovation and you sit down and say that there's no transmission letter," Mr. Kpebu stated.
A letter from the presidency in reaction to the report from the IMCIM said the minister wrote the report based on hearsays and to also settle personal scores with people whilst serving on the committee.
It went ahead to say the document was presented to the Chief of Staff at an unofficial encounter without a transmittal letter addressing it to the cabinet that constituted the committee.
For Martin Kpebu: "So is the transmission letter more important than the personal meeting with the Chief of Staff? I told you that is the same thing this Chief of Staff, the President and Bawumia did when the NDA matter came up."
READ ALSO: Your 'we have the men, we have the men were station boys who don't know anything – Mahama jabs NPP
Follow @Felix Anim-Appau