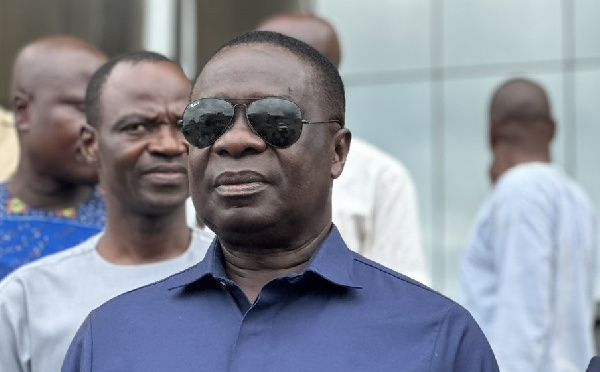 Assin North legislator, James Gyakye Quayson, has disclosed that he was never invited to serve as a witness in the hearing that annulled his election as Member of Parliament (MP) in the 2020 polls.
The MP has revealed that he was injuncted three weeks after the election and served by a bailiff through his lawyers a day before his swearing-in but never received the injunction.
According to him, his lawyers prayed the court to allow him appear to defend himself but to no avail.
"After the 3rd week of my victory in 2020, I was served through my lawyers a court injunction, that they were challenging my elections. During that same entire process, I never had a day in court myself, I never had a chance. The trial judge never called me as a witness, or anything, even once, which my lawyers were demanding. In all these processes, I wasn't in court. Obviously, they gave it to a bailiff to serve me, and that was a day before the swearing-in. We never received it, my lawyers never received it," he said on Accra-based Citi TV.
He explained further that in the night of the swearing-in, "I was going to go with the flow. Nobody stopped me from entering the chamber. There was controversy about the injunction during the swearing-in, as to the time I was served. The bottom line was that I was never served."
James Gyakye Quayson was kicked out of Parliament and his name expunged from the House's records as directed by the Supreme Court following a ruling that nullified his election as a Member of Parliament.
The court's decision was based on his possession of dual citizenship.
The Electoral Commission had earlier been petitioned by a pro-NPP group by name 'Concerned Citizens of Assin North' in November 2020 to withdraw his candidature for his allegiance to Canada.
He consequently contested the poll, won and stripped off his position by the Supreme Court after one Michael Ankomah-Nimfah, a teacher and resident of Yamoransa in the Central region, subsequently filed a petition at the Cape Coast High Court against him.
The Cape Coast High Court annulled his election for holding allegiance to Canada which was upheld by the Supreme Court, demanding that his name be expunged from the parliamentary records.
His seat was declared vacant on Tuesday, May 30, which called for a by-election which he contested and won.
READ ALSO: Gyakye Quayson's case: Sammy Gyamfi finds apex court's verdict strange citing Supreme Court's own previous judgement