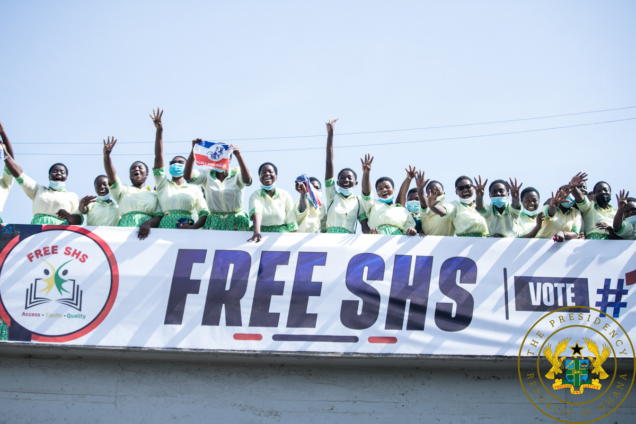 Failure among students at the senior high school level has been a problem that has existed for years as a result of the challenges at the basic schools, Professor Stephen Adei, has observed.
The former GIMPA Rector says the country's education should be disparagingly accessed at the basic stage to avert the cascading effect at the secondary level rather than attributing the problems to the Free Senior High School (SHS) policy.
According to him, students had been failing examination before the implementation of the Free SHS programme, the reason the problem cannot be attributed, if anything, solely to the policy.
The Professor cited the World Bank's description of Ghana's basic education to buttress his assertion.
READ ALSO: Education Ministry issues directive for commencement of 2023 schools selection for BECE candidates
"About forty to fifty percent of our students fail at the SHS which has nothing to do with free SHS. It has to do with the foundation in terms of primary school. The World Bank describes primary schools in Ghana as schooling without learning," he said at the TV3 National Level Dialogue on the theme "Free SHS in perspective: The problems, progress and prospects" on Wednesday, August 23, 2023.
"It is statistically proven that free SHS has not produced lower quality students than when there was no free SHS," he indicated further.
He has lauded the policy as an ardent supporter of it, especially when he enjoyed same under President Nkrumah.
The former Board Chair of the Ghana Revenue Authority has expressed why one's parental status should not be a cause for his/her inability to further his education after the basic level.
"I am an avid supporter of free SHS. Every child in Ghana must have access to education up to the high school level and not be constrained because their parents cannot affairs," he stated, noting that, "the Free SHS will be one of the greatest legacies of His Excellency the President. There is no rational Ghanaian who will want to scrap the policy of free SHS."
READ ALSO: Government's free tablet policy a ploy to woo SHS students for votes – Minority
The Free SHS programme was introduced by the Akufo-Addo government to provide every Ghanaian child at school going age the opportunity to access education. Aside from taking care of tuition and boarding fees, the policy also provides students with core textbooks, supplementary readers' notebooks and exercise books and, where applicable, free drawing instruments at no cost to them.