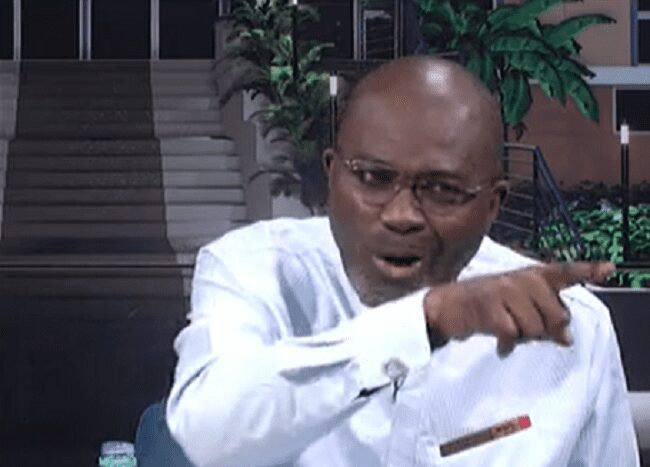 An aspiring NPP flagbearer and Member of Parliament for Assin Central, Kennedy Ohene Agyapong, says because those at the Finance ministry have refused to take his advice, he want to be president to prove them wrong.
He says running an economy is not about theories but pragmatism and wisdom which he has in abundance to turn the fortunes of Ghana.
The vocal Member of Parliament says despite his 35years experience in Ghana's Parliament, just because he attended a public school in his native village, Assin, the Finance Minister, who only believes in theories, ignores his counsel on the economy.
"Who am I, to advise the Finance Minister, Assin [Dompim] Middle School? That is why, I want to be president this time and prove them wrong, that what they have been saying are all theories. I want to use pragmatic approach to change the fortunes of this country," Mr Agyapong said in an exclusive interview with Roland Walker, host of TV3's NewDay Wednesday, August 16, 2023.
READ ALSO: Don't equate me to Trump – Ken Agyapong rejects comparison to former U.S. President 
He also mentioned that his opinions are not respected because he does not have as much money as others. According to Mr. Agyapong, he has shared his advice on many issues with the current government, yet the ministers and officials in charge always ignore him.
"Wo sika sua a, wasem sua. An Akan adage which means, if you don't have money whatever you say is not taken into account. You can advise but they can choose to take it or not," he explained.
The NPP flagbearer hopeful added that, "I have not really advised the President, Nana Addo Dankwa Akufo- Addo, but I have served on several committees. Especially, when I was on the Agricultural Committee in Parliament, my company took yam to Holland for an experiment, where we proved that the starch content in yam is the same as potatoes. So, we could also store yams in certain conditions in cold temperatures for a period of 8 months."
READ ALSO: From 17 thieves to 10 Biblical Lepers; Asiedu Nketia tags NPP presidential aspirants
"Secondly, I also advised that during the months of June, July, August, Ghana experiences bumper harvest in fish. So, I encouraged that we build cold stores and buy freezers with about -41 degrees celsius which is better than the cold stores with the usual temperatures of -12, -10 degrees to store our fishes, so it meets international standards and then we can export to gain extra revenue," he disclosed.
The Assin Central MP said none of these pieces of advice were taken by officials of the current government. Therefore, he is pleading with the delegates of the New Patriotic Party to vote for him as a flagbearer of the party and hopefully become the president of Ghana in order to use pragmatic approach to change the fortunes of Ghana.
Mr Ohene Agyapong, who is touring all 16 regions of Ghana to convince delegates of the NPP to vote for him, believes he can change the fortunes of Ghana with patriotism, honesty and discipline.
READ ALSO: From Eric's Diary: Ei! So, NPP can break the 8?
He also believes, as an astute businessman and a senior Member of Parliament, that Ghana can do better with job creation.
Mr. Kennedy Ohene Agyapong is among the 10 aspirants contesting the flagbearer position in the New Patriotic Party. The party has scheduled August 26 for a Super Delegates Conference to elect 5 from 10 candidates vying to lead the party into the 2024 general elections.
By Clara Boadi Konadu|3News|Onuaonline.com