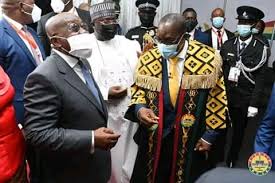 Private legal practitioner, Kwame Jantuah, has said the lack of funds to run the country's legislature is a ploy to frustrate the Speaker, Rt. Hon. Alban Sumana Kingsford Bagbin.
He says the power play situation is ongoing because the Speaker is not from the governing party.
Speaking on TV3's NewDay with Johnnie Hughes on Friday, May 27, 2022, he averred "there could be power play because the Speaker is not from the ruling party. Right now, the Speaker says there is no money, so how will government business go on?"
Mr. Jantuah's comments follow the Speaker's recent lamentation of lacking financial capacity for Parliament to run most of its programmes.The situation, which Mr. Bagbin described as "uneasy", he added, would leave the House no option than to run on some arrears of the previous year.
"What many of you don't know is that even as at this time we don't have any releases from the Ministry of Finance for us to run Parliament.
"So we will be running Parliament on some arrears of last year, it is not easy. Sometimes we see your request for me to approve for you to do some things I declined. It is not because I love declining your request, it is because we don't have the wherewithal to fund those operations," he said on the floor Parliament on Thursday, May 26, 2022.
The Speaker added Parliament cannot be treated as part of the Ministries, Departments and Agencies (MDAs) because it is an arm of government.
"I think the Ministry of Finance should not treat Parliament like this a Ministry or MDA. I will emphasise this again, this is an arm of government, we are not part of the MMDAs. We have even been written to reduce our budget in some areas by 50 per cent. If they want Parliament to run aground, they should let us know," he noted.
The Rt. Hon. Speaker therefore purged himself of any blames resulting from the improper functioning of the House due to lack of funds.
Mr. Jantuah advised the Executive and the Legislature to resolve the issue with the urgency it deserves since they both need each other to function properly.
Source: Felix Anim-Appau/Onuaonline.com/Ghana