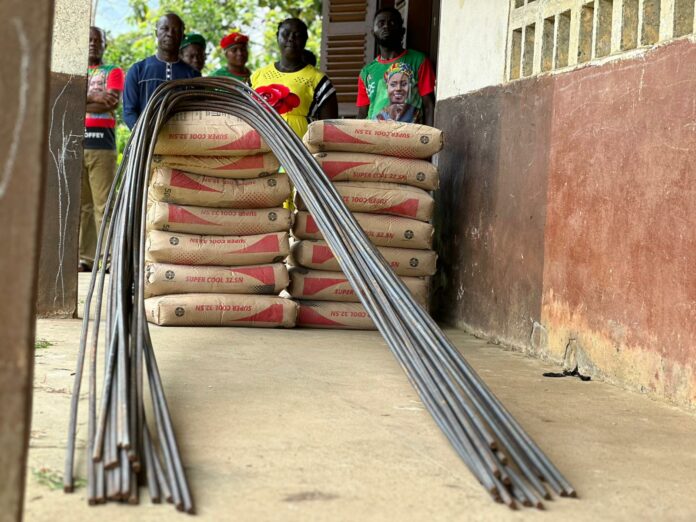 For the past two years, Kindergarten 1 and 2 pupils of Compound Basic School in the Jomoro Constituency of the Western region have been attending classes without permanent classrooms.
This was because, the two school structures that were housing these pupils collapsed during a heavy downpour.
According to the teachers in the school, even before the eventual collapse of the two rooms, the structures were death traps for the pupils.
"It was also a death trap for the children because the rain had destroyed the structure. We realised it could cause disaster so we stopped the children," one of the teachers, Adria Amani explained to the media.
These came to light when the Member of Parliament for Jomoro, Dorcas Affo-Toffey, presented some building materials towards the reconstruction of these two rooms.
The items were 20-tons of iron rods and 20-bags of cement.
READ ALSO: A/R: Rainstorm ripps off school building at Sekyere Kumawu
Madam Amani explained that ever since the two buildings collapsed two years ago, "we converted one of the classrooms and combined the KG 1 and 2 pupils to use as their classroom."
She explained that it was difficult for teaching and learning because the children were piled up in that small classroom.
She said the gesture from the MP has come at the right time since it will help in the speedy construction of the two rooms to enable the pupils have better classrooms to study.
The Odikro of Compound, Nana Ngwa, assured the MP that he would ensure the building materials are used for the purpose for which it was presented.
The Odikro expressed gratitude to the MP and urged her to help lobby for the construction of the deplorable roads in the area.
Nana Ngwa urged the NDC delegates to vote for her in the impending primaries to elect parliamentary candidate in order for her to continue her good work for the people of Jomoro.
The Member of Parliament for Jomoro, Dorcas Affo-Toffey, also promised to come to their aid if the materials are not adequate.
By Kweku Antwi-Otoo|Onuaonline.com|Ghana