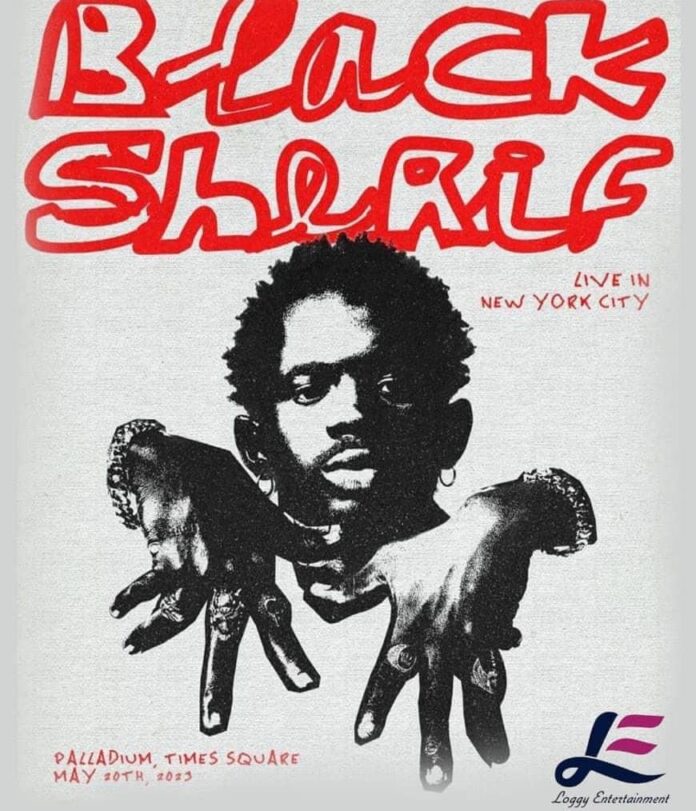 New Yorkers have expressed extreme eagerness to attend Black Sherif's first show after becoming Ghana's Artiste of the Year.
The multiple award-winning Ghanaian Musician is set to fill the 2,100-capacity concert venue Palladium Times Square in New York City.
Slated for May 20, 2023, Blacko will be mounting his first international stage after grabbing five awards at the just ended 24th Vodafone Ghana Music Awards (VGMA) and a section of New Yorkers can't wait to experience the exciting and thrilling live performance of 'Kwaku The Traveler' hitmaker.
Located at the corner of 44th Broadway in Times Square-Manhattan on one of the busiest intersections of the world, Black Sherif's Palladium live concert is expected to afford the young artist a platform to showcase his unique blend of hip-hop, highlife, and afrobeat talent to a different section of music lovers.
Blacko is expected to build upon and improve the electrifying performance from the VGMAs with top notch stage craft and showmanship.
Producers and promoters of the live concert SAFCOM Group, LOGGY entertainment and @GHMUSICPROMOUNIONUSA in a recent interview assured of standard security to ensure the much-awaited event is lit.
One of the event promoters Nana NYC of @GHMUSICPROMOUNIONUSA hinted of possible short of tickets if patrons do not grab their tickets ahead of time.
READ ALSO: Black Sherif is Artiste of the Year at 24th VGMA
READ ALSO: I didn't win VGMA Artiste of the Year because I became too proud, God stopped me – KiDi
"With few days to the event is likely the entire tickets will be sold out considering the rate at which patrons are buying seats on daily basis" He added that tickets are available online, but for physical tickets contact: 3478671331
Who is Black Sherif?
Mohammed Ismail Sharrif born January 9, 2002, professionally known as Black Sherif, is a Ghanaian singer and rapper. The young artist, who hails from the Northern region of Ghana but born and bred in Konongo in the Ashanti region has quickly gained a reputation as one of the country's most promising talents.
The singer and rap sensation Black Sherif won the 2023 Vodafone Ghana Music Awards Artiste of the Year.
Black Sherif also took home awards for the Best Music Video, Most Popular Song of the Year, Best Collaboration of the Year (as Sarkodie featured him on Country side) and Best Hip-hop Song of the Year with Kwaku 'The Traveler.'
He first gained widespread attention with his hit single 'First Sermon' which was released in 2021. The song, which features catchy lyrics and an infectious beat, quickly went viral, racking up millions of views on YouTube and other streaming platforms before he topped it up with his 'Second Sermon'.
Since then, the 'Kwaku The Traveler' hitmaker has continued to build on his success with a string of well-received releases. His maiden album, "The Villain I Never Was," has been particularly popular, garnering praise from both fans and critics alike.
READ ALSO: Black Sherif shares reaction after losing Album of the Year at 24th VGMAs