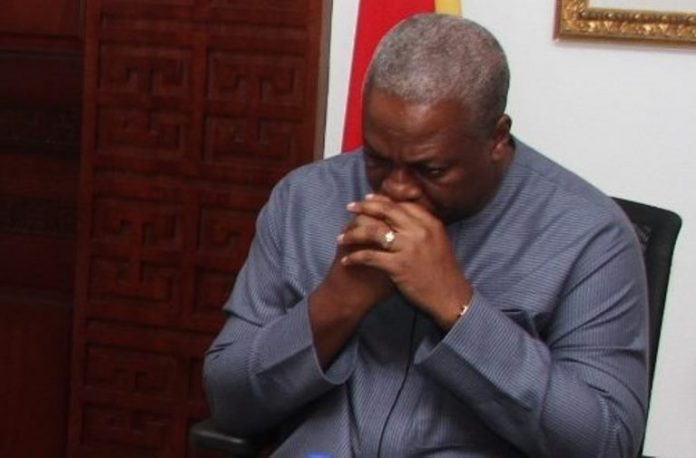 John Dramani Mahama was declared winner by the Electoral Commission of Ghana (EC) at the Presidential Primary of the opposition National Democratic Congress held Satturday, May 13, 2023.
The former President polled 297,603 votes, representing 98.9 per cent of the valid votes cast to beat his contender, Kojo Bonsu, a former Chief Executive of the Kumasi Metropolitan Assembly, who got 3,181 votes representing 1.1 per cent.
Kojo Bonsu had earlier conceded defeat and congratulated Mr Mahama for running a superior campaign and deserving a victory.
The third contestant, former
Finance Minister Dr Kwabena Duffuor, pulled
out of the race on Friday May 12, citing his reservations over the Voter's Register.
This was after he discontinued a court injunction petition he filed over the matter.
Despite the overwhelming votes garnered by Mr. Mahama for the resounding victory in the NDC, founder and leader of the Liberal Party of Ghana, Percival Kofi Akpaloo, thinks he is not fit to rule the state.
According to him, the former President, even though, has the experience, he lacks the vision and what it takes to rule Ghana again.
He asserts Mr. Mahama is only dreaming and should not think of winning power again.
"Mahama has the experience because he is a former President but he does not have a vision to save Ghana from the economic crisis".
"Mahama is an old man now and like the Bible said in Joel 2: 28 that your old men would have dreams; so Mahama is dreaming and can never be president again in Ghana," he said.
READ ALSO: NDC are nation wreckers – Kofi Akpaloo
READ ALSO: Political party group slams NDC MPs for kicking against Ghana card as sole document for voter ID 
Mr. Akpaloo made the comments in reaction to John Mahama's victory in the NDC's internal polls.
He maintained Ghana needs a visionary leader who can transpose the country's economic downturns and John Mahama doesn't have the vision and capabilities to do so.
Kofi Akpaloo stated the LPG will win the general elections in 2024 and become the country's new government, which will reshape Ghana with better policies.
He encouraged the electorate to support him to become the next president of Ghana because the country's two main political parties have let Ghanaians down over the years.
READ ALSO: PROFORUM congratulates Mahama on election as flagbearer of the NDC