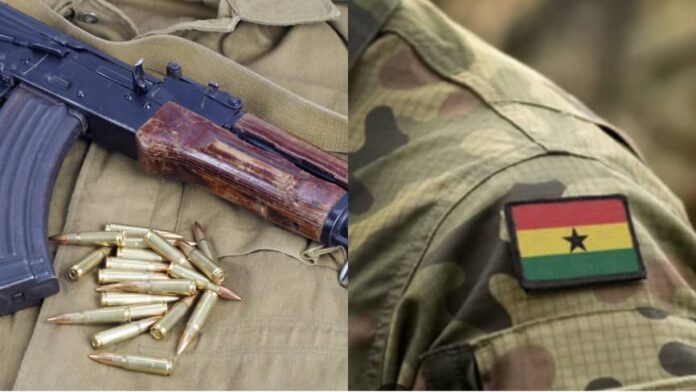 A soldier's riffle accidentally got discharged at the Base ammunition Depot near the Michel Camp in Accra killing him instantly.
Private Bayou Roger, who was with the 5 Infantry Battalion died "as a result of suspected accidental discharge," a statement from the Ghana Armed Forces indicated.
Narrating the incident, GAF said Private Roger, with the platoon from Southern Command, was performing his duties when the unfortunate event happened on Saturday, August, 19, at 7:50 am.
"Preliminary investigative report indicates that the soldier was seen sitting on his bed, waiting to believe his colleague at a duty post at 8 am when his rifle went off hitting him under his chin; killing him instantly," the statement added.
Meanwhile, the Homicide Unit of the Gbetsele Police Station has teamed up with the Military Police to probe his death.
"GAF takes this opportunity to express its deepest condolences to the bereaved family, colleagues, friends and loved ones of the deceased soldier," portions.of the statement had.
The body of the deceased has since been deposited at the 37 Military Hospital mortuary.
READ ALSO: Ashaiman: Mother of slain soldier speaks on late son's relationship with lady he visited before his murder