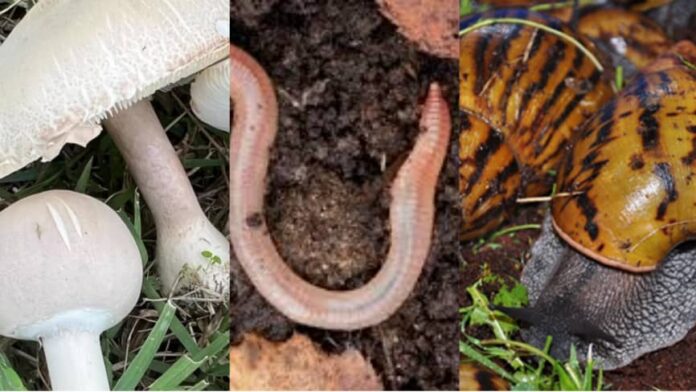 A soil scientist at the Ghana Atomic Energy Commission (GAEC) Prof. Daniel Kwasi Asare has cautioned of the ramifications of indiscriminate application of chemicals on Ghana's soil.
The professor says the inorganic chemicals used by some farmers aside from those being discharged by galamsey activities is ridding the soil of the nutrients that are needed for plant growth.
According to him, the organic matter that stores the nutrients for plant sustenance is being destroyed which is also affecting the soil.
Speaking on Onua TV/FM's Maakye Tuesday, May 2, 2023, Prof. Asare said the extinction of mushrooms, snails and earthworms is as a result of the application of inorganic chemicals on the soil.
He cautioned of consumption of.poisonous foods if care is not taken.
READ ALSO: Ghana's galamsey fight the biggest environmental scam in Sub Saharan Africa – Pol. analyst
READ ALSO: C/R: Over 30 residents poisoned after consuming contaminated fish
"The organic matter when it depletes, it affects the soil because the organic matter stores nutrients for the plant but when it gets destroyed, if affects the soil.
"Also, wrong application of chemicals kills the living organisms in the soil. The worms in the soil have all been killed. The presence of worms in a soil determines how fertile the soil is. Mushrooms are no more and mushrooms are trees so the more we spray chemicals, we lose them. Snails also contribute to soil fertility but spraying the weeds affect them all," he indicated.
Meanwhile, he says "we can use sustainable agriculture because some of the chemicals are organic unlike the inorganic ones" to maintain the soil fertility.
Professor Asare advised for public education from the Agric ministry to be intensified to help with the proper application of chemicals "else all the food we consume will be poisonous."
"We should double our efforts in the education to cover large areas. The extention officers are not enough," he added.
READ ALSO: 15 persons, including a boxer, arrested for open defecation, improper waste disposal