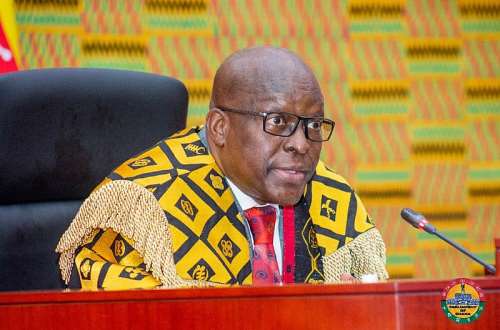 The Speaker of Parliament Albert Sumana Kingsford Bagbin has reiterated that the Legislature did not legalise cannabis for recreation or smoking purposes.
According to the Speaker, reports provided by some media outlets gave an erroneous impression that people can now smoke marijuana for pleasure after the passage of the Bill.
Speaking in Parliament Thursday, July 27, 2023, Mr. Bagbin said it is not in the interest of Parliament to promote the smoking of 'wee' in the country.
READ ALSO: Kayayie Hostel Project: Afo Toffey settles tension between Agbogbloshie traders, drivers, gov't over land takeover 
"It is imperative to reiterate, particularly in the face of the inaccurate media representation, that the purpose of our legislative action has never been, and is not now, to promote or legalise the recreational use or smoking of cannabis.
"In conclusion, therefore, the House remains steadfast in its commitment to enforcing the law against the unlawful use of cannabis.
"We will continue to act in a manner that upholds the Constitution, serves the public interest, and advances our nation's development," he said.
READ ALSO: Mahama is dreaming and can never be president again in Ghana – Kofi Akpaloo
Parliament on July 13, 2023 passed the Narcotics Control Commission Bill 2023 into law.
The passage will give the Interior Ministry the mandate to grant licenses for the cultivation of the herbs. However, the approval will only cater for cannabis that has not more than 0.3% utility content on dry weight spaces for industrial or medicinal purposes.
This is the second time Parliament has passed the Bill after the Supreme Court annulled the initial one by striking out the section 43 of the law as unconstitutional.
But the Speaker and the Interior Minister, Ambrose Dery slammed the apex court for that order, amended the law and inserted the same provision back into it.
Following the passage of the Bill, the Speaker warned that anybody that misinterpretes the law to smoke weed would face the consequences for misapplication.
READ ALSO: You're important vehicle for information dissemination – GGSA Director General to journalists
He was emphatic that the cultivation and supply of any narcotic plant without lawful authority remains an offense, charging the law enforcement agencies to prosecute anybody that cultivates it under the new law without license.
"I reiterate the cultivation, the manufacture, the processing, the production, the sale, the distribution or the use of narcotic plants, including wee, marijuana or synthetic or semi-synthetic drug without lawful authority remains an offense and is punishable by our laws.
"I therefore call on the law enforcement authorities to continue to investigate, to prosecute and to commit offenders to the sanctions of the law," he emphasised.
READ ALSO: Blakk Rasta takes on Parliament over Supreme Court's verdict on 'wee' cultivation