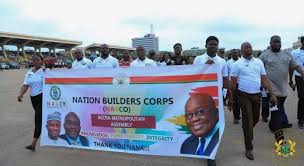 The coalition of NABCO Trainees has described the provision of funds for the National Cathedral as a "misplaced priority and an unpardonable religious perversion."
Government last week through the Finance Ministry instructed the Controller and Accountant General to release a GH₵25million seed money for the construction of the National Cathedral.
Meanwhile, North Tongu Member of Parliament, Samuel Okudzeto Ablakwa also intercepted a document from the presidency indicating some GH₵37million had been paid Adjaye and Associates as consultancy fees for the same project.
In a statement released by the NABCO Trainees and signed by its National PRO, Nana Yaw Tachie, it says it is rather unfortunate that government ignores their cries despite numerous to demand their stipends and rather pump money into the National Cathedral.
It adds that the neglection of NACOB Trainees is an abhorrent to God himself.
"There is no other service to God than vital service to humanity"
"We have been complaining of government unkindness in paying our allowances on time since the beginning of Nabco initiative."
"After numerous demonstrations and petitions to officials over our unpaid stipends, government has showed zero response to our grievances."
It further told government to heed to the plight of these young graduates who are surviving at the benevolence of others due to the economic hardship in the country, reminding her that "Only the living can worship in temples not the Dead".
"One may hold a contrary argument on the source and purpose of such funds, but inasmuch as such disbursement is coincidental to the state of shock and wailing of NABCO Trainees over seven solid months of unpaid stipends, such action of government are a misplaced priority, unsympathetic and a clear disservice to God and humanity," the release added.
The Trainees have purported a mammoth protest against the government after a press conference.
Source: Onuaonline.com|Ghana