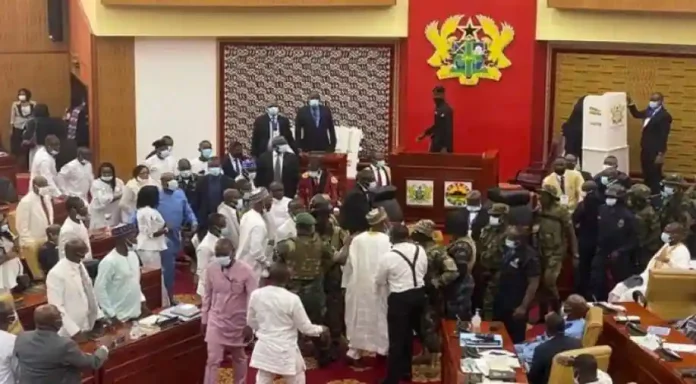 A Spokesperson for the Economic Fighters League, Patrick Nii Aryee Opare, says the current opposition in government is the most useless opposition Ghana has had in the Fourth Republic.
Nii Aryee's assertion is built on the non-action of the opposition on the ongoing cathedral issues which he believes is an impeachable offense and should have triggered the processes to oust the current administration.
He notes the numerical strength of the opposition in Parliament shouldn't have warranted the state of affairs in the country presently.
'Minority will have their say, Majority will have their way' clichéd with most democracies according to Nii Aryee is absent from the current Parliament with the 137 representatives apiece for the two main political parties.
He explains the Minority's recent threats to block all government business till the Finance Minister appears before the House to account for the Covid-19 fund expenditure tells Ghanaians they have ability to have prevented many of the things government has pushed through the House.
Speaking on the National Cathedral and state of the economy on Onua TV/FM's 'Maakye' Tuesday, June 21, 2022, he averred the Minority shouldn't have approved the re-appointment of the Finance Minister, Ken Ofori-Atta, looking at what he plundered Ghana's economy into.
"The Cathedral brouhaha is an impeachable offence which should have eroded the entire government machinery. The current opposition in government is the most useless opposition ever. Because they have the numerical strength to do a lot of things but they are not doing it," he stated.
Mr. Opare also expressed shock that "you [Opposition in Parliament] have the strength to stop a lot of things in Parliament but you leave it and join the masses on the street. We go to the street because we don't have the power in Parliament. Why is the President still at post? Boris Johnson [UK Prime Minister] was impeached for a mere tea party at Covid times. But here [Ghana] the entire government machinery attended a funeral breaching the protocols."
He described Ghana as a banana republic without any rules working.
The Cathedral, he indicated, "cannot be built because if you want to build a house for God who is holy, you can't build it on lies. Mensa Otabil's picture was put there for people to join the project. That is fraud by pretense. Both the Attorney General and Special Prosecutor should have looked into it."
Source: Felix Anim-Appau|Onuaonline.com|Ghana