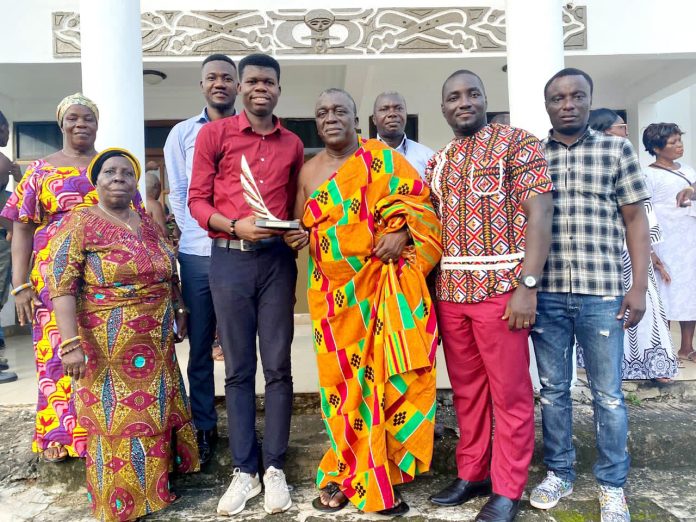 Francis Hema, the International Sports Press (AIPS) young reporter of the year has paid a courtesy call on the Paramount Chief of Essikado traditional area, Nana Kobina Nketiah V at his palace on Monday, June 20, 2022.
The Connect FM sports broadcaster was bestowed the honour during a ceremony in Qatar on Sunday, June 12, 2022 where he came first ahead of other two candidates who were shortlisted for the enviable award.
Over 300 journalists across the globe competed for the award but Francis Hema had his special report on how a colt club (Pra Babies) in the Western region traveled by sea for matches.
And as a sign of showing gratitude to the support offered him, Francis Hema who double as a media officer for Sekondi Eleven Wise presented the award to the Essikado Omanhene.
Speaking during the presentation, Master Hema recounted how the journey started from having to compete with over three hundred journalists across the globe to winning the award after being shortlisted among the final three.
Nana Kobina Nketiah who was very proud and all excited stated that it's a big honour for the entire nation as he showed his colourful Ghana flag and advised that Francis puts in the effort to keep the momentum.
"I am extremely happy for this honour, this is not for Essikado, this is not the Sekondi-Takoradi and Western Region but for the entire nation.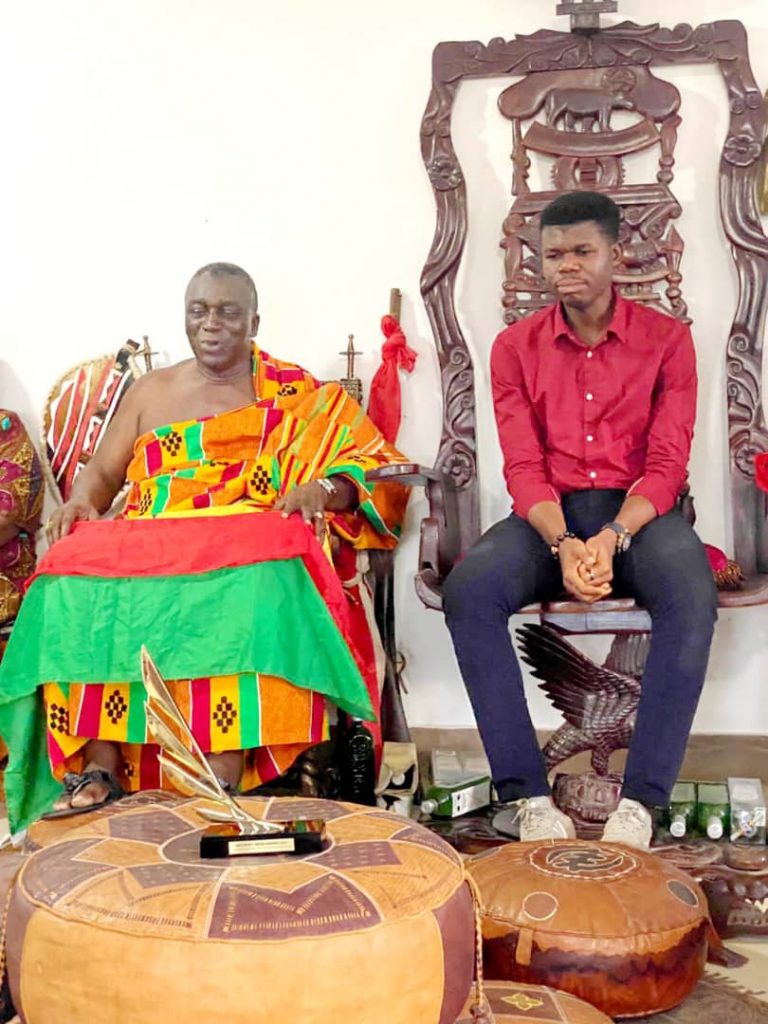 "You are no longer the Francis Hema of old, you're now a beacon of hope for all the young ones so be measured in what you say and what you do.
"What's next should always be the question" – Nana Kobina Nketsia V told the media present.
Also adding his voice was the Connect FM manager, Ransford Asare who acknowledged Nana Kobina Nketiah for his continuous support in ensuring the station becomes the best in the Western Region.
Francis Hema was accompanied by his mother and some extended relatives as well as his colleagues at Connect FM (Media General) and some friends in the media space.
Source: Onuaonline.com|Ghana