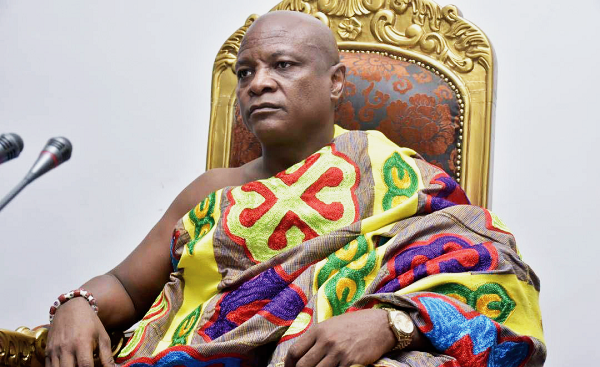 Latest to add to the calls for the Economic Community of West African States (ECOWAS) to prioritise diplomacy over military invasion to restore constitutional rule in Niger is the Agbogbomefia of the Asogli State, Togbe Afede XIV.
Drawing lessons from the Ukraine situation, Togbe Afede has advised the ECOWAS leadership to factor the repercussions of adopting military intervention in Niger in their decisions in order not to engage in anything at the detriment of the bloc.
"Wars are not easily won; what is happening in Ukraine should provide valuable lessons for us. Diplomacy should be our path. I have no doubt that… we should avoid committing our limited resources to a war that's unlikely to yield victory," he advised at the launch of the 2023 Asogli Yam Festival in Accra.
READ ALSO: Togbe Afede provides reasons for rejecting Ken Agyapong's gifts
The Agbogbomefia has also urged the traditional authority to exert honesty to aid the adjudication of disputes in the country since milieus arise when a faction is not being truthful.
He said when peace is fought and won in Ghana, it will transcend to other neighbouring countties on the continent.
"Wherever there are disputes, somebody is not telling the truth so, I will encourage our chiefs to hold to the path of strictest honesty so, we can establish peace on the chieftaincy front and also fight the cause of peace across our country and our continent," he espoused.
Traditional leaders from the Volta region, Nana Kobina Nketsia V, the Paramount Chief of Essikado Traditional Area in the Western region, members of the diplomatic corps, the clergy, and other dignitaries were all in attendance of the event which also marked the 20th Anniversary of Togbe Afede's reign as Agbogbomefia of the Asogli State.
Indicating that "between peace and anarchy, there is no choice", Togbe Afede reemphasised his resolve to help establish resolution to the lingering chieftaincy disputes in the country to foster development.
READ ALSO: Feuding factions in Techiman South NDC smoke peace pipe after FEC's intervention
The upcoming festival, themed "20 Years of Selfless and Inspiring Leadership," is scheduled to take place from September 2, 2023, to October 8, 2023, with a series of activities in Ho, the Volta regional capital.
For his part, the Essikadomanhen, Nana Kobina Nketia V, extolled the Agbogbomefia for his 20-year leadership and how he has prioritised integrity and honesty as overlord of the Asogli state.
He maintained that humility, selflessness, and truthfulness are qualities of every true leader and the Agbogbomefia has exemplified them as overlord of the Asogli State.
Other members of the Asogli Traditional Council also lauded him for upholding the traditions and customs of the Asogli people over the years.
READ ALSO: Asogli State Council imposes ban on funerals ahead of Yam Festival