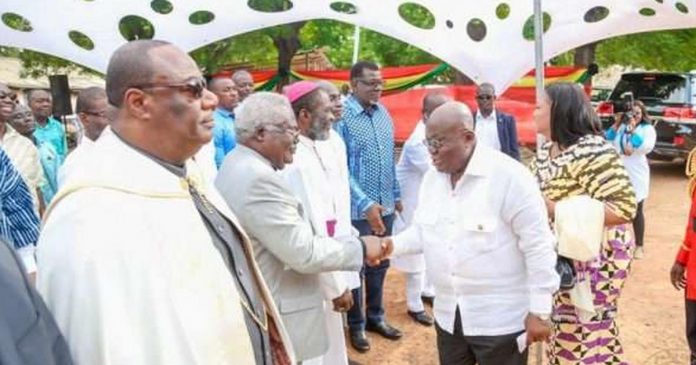 Discussions on the funding and ownership of the National Cathedral has gained centre stage on both traditional and social media over the last few weeks with new dimensions popping up on almost a daily basis.
A Youth Activist and Social Commentator, Ivan Innocent Kyei has said the 'men of God on the Board of Trustees of the National Cathedral project must do a press conference and apologise to the entire nation" on the insults they rained on some citizens for spelling some corruptive aspect of the initiative.
Speaking on Onua TV/9FM's Maakye on Tuesday, June 21, 2022, Mr. Kyei asked to know the stance of those Trustee members now that the truth about the Cathedral's ownership and funding is unfolding.
The National Cathedral of Ghana Secretariat came out to clarify an assertion on the ownership of the project saying it is not a private but a public venture legally owned by the state.
The Cathedral, it sad, is a national monument and incorporated under the Companies Act, 1963 (Act 179) on July 18, 2019.
"We hope this brings to a closure the seemingly vexatious issue of whether the National Cathedral is a private or public initiative."
"The National Cathedral is a National Monument and Asset, and not a Private project. It is however being developed in partnership between the state and the church," a statement issued by the Secretariat on Friday, June 17, 2022 said.
After government spending a ransom GH₵200million on the project, the Secretariat issued the release to justify the sums the state is pumping into the project, especially when Ghanaians knew the Cathedral is not going to be built with taxpayers money.
Meanwhile, some documents released by the Member of Parliament for North Tongu, Samuel Okudzeto Ablakwa, reveals the cathedral is a private-owned entity as opposed to what the Secretariat said in its statement.
But Mr. Kyei has been asking host of Maakye, Captain Smart that: "What is the current decision of the pastors who insulted us for talking about the cathedral? I've heard some are resigning secretly. They must do a press conference and apologise to the entire country. Every pastor on the Board that knows anything about the monies must be taken to court."
The nurse trained social commentator also bemoaned the Ghanaian concept and attitude towards power, saying "people would trade their wives for power because their intent is not to serve but to use power to amass wealth for themselves and engage in sort of mishaps."
By: Felix Anim-Appau|Onuaonline.com|Ghana