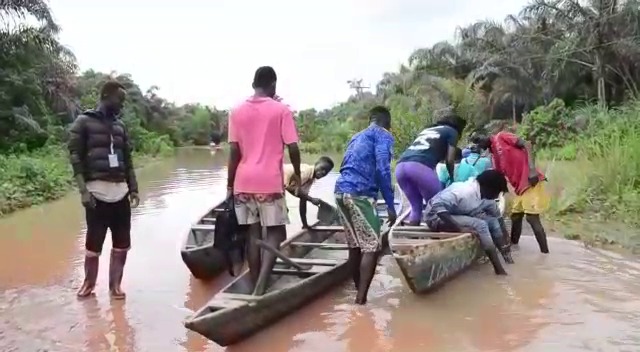 Scores of residents at Gwira in the Nzema East Municipality of the Western Region who were badly affected by torrential rains are calling on the government to put in place immediate measures to help restore their livelihoods.
Flood waters that took over roads and houses in the community are yet to recede two weeks after a downpour.
Two weeks ago, a torrential downpour viciously swept through the Nzema East Municipality leaving in its wake wanton destruction to properties and farmlands.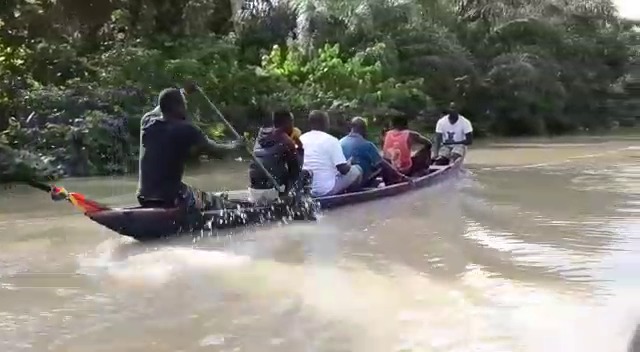 Communities along the Ankobra River were worse affected and life at Gwira and its environs, in particular, came to a standstill.
The main road into the community was heavily flooded making any form of vehicular movement impossible. Residents had to traverse the road only by a canoe.
Teaching and learning came to an end as schools were also not spared off the ravages of the flood.
Households had to move to higher grounds to seek shelter. This cocoa farmer lost over 50 bags of cocoa.
"Our road blocked no car is moving because of this we find it difficult to have an access to a drinking water and foodstuffs. We thank God we didn't record any death and no one also fell sick so we're thanking God on that. But we have lost everything we have to the water. The kids were also not spared. They couldn't attend school. As we are speaking now, the teachers are not able to come to school because of the torrential downpour. We are appealing to the government to come to our aid and relook at our road network here"
Other residents who were equally affected explained that they have not been able to resume any form of economic activity as the flood waters are yet to recede.
Member of Parliament for Evalue Gwira Ajomoro Kofi Arko Nokoe and his team over the weekend toured the affected communities to access the level of destruction to enable his office offer the needed assistance. The team had a tough time plying the flooded roads.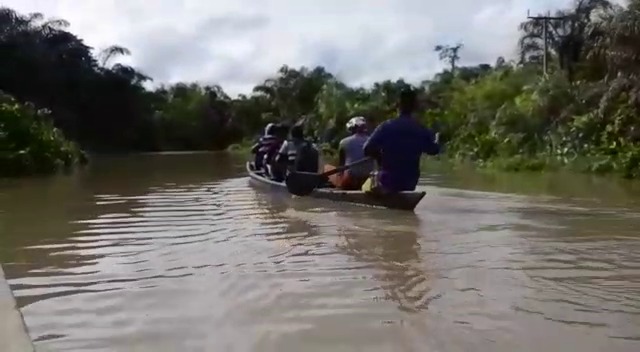 He later presented several relief items to scores of the victims and assured them of a more sustainable assistance to help them get back on their feet.
"Our first visit revealed that some of the residents here find it difficult to earn three square meals, so we tried our best to donate some relief items to support them. We are giving them wice, water, oil and many more to sustain them for this period.
The opinion leaders in the community are planning to meet and access the cost of destruction to find a lasting solution to it.
"Although this destruction is beyond my control but I will try best to assist them,"
By Ebenezer Atiemo|Onuaonline.com|Ghana