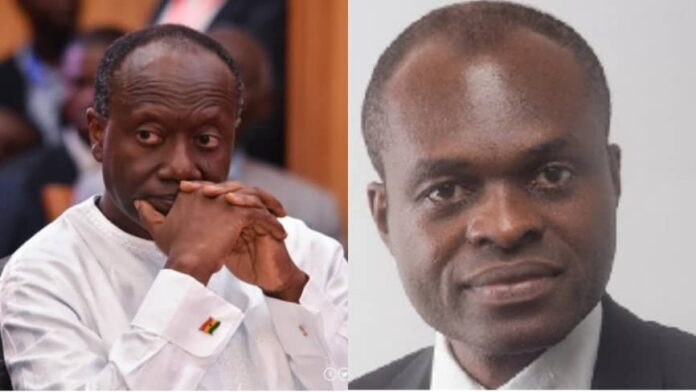 Finance Minister Ken Ofori-Attah according to Martin Kpebu is not accomplished economic-wise to manage Ghana's economy.
The private legal practitioner says the fact that the government was borrowing haphazardly for consumption should have sent an indication to the managers of the economy on the impending danger.
Mr. Kpebu says managing an economy is not rocket science but an act that requires discipline.
"Such indiscipline where do you think it was going to lead you to? They are doing as if the economics is like rocket science. You just needed discipline. You borrowed and you were using for consumption. You just didn't have any proper plan to change the structure of the economy.
"Ask yourself when local poultry production is collapsed, what do you think is going to happen? Put on the poultry producers they will tell you the cost of feed is so high, it's prohibitive because that's the major component, about 70% of producing local chicken and the rest," he said on TV3's the Key Points Saturday, May 19, 2023.
He asserted further that the Finance minister should not continue to be in office because he lacks the insight to resuscitate the economy.
"…So for me, it just tells you that Ofori-Attah is not the man, he just doesn't have the wherewithal, he lacks the capacity to manage this economy. This guy just has to go off. He is an investment banker this is not the time for experimenting with investment bankers. We need accomplished economists, people who know what it is because these things are basic. We all have learnt these things over 20, 30 years," he told host, Alfred Ocansey.
He bemoaned the act of expending government loans on recurrent expenditure saying it is the major problem of the current administration.
"When you borrow you're using it to pay salaries, you're using it for recurrent expenditure, you remember the expenditure of car tyres and batteries, 2022 at the office of the president. They are driving 40 V8s on one trip and then the president bathing in the sky. If you bath in the sky what will happen? Isn't your economy going to collapse? So indiscipline," he stated.
His comments follow government's receipt of the first tranche of $600million of the $3billion credit facility granted Ghana by the International Monetary Fund Friday, May 19.
READ ALSO: What happened to your 'Anas Principle' of curbing corruption? Kpebu asks Akufo-Addo