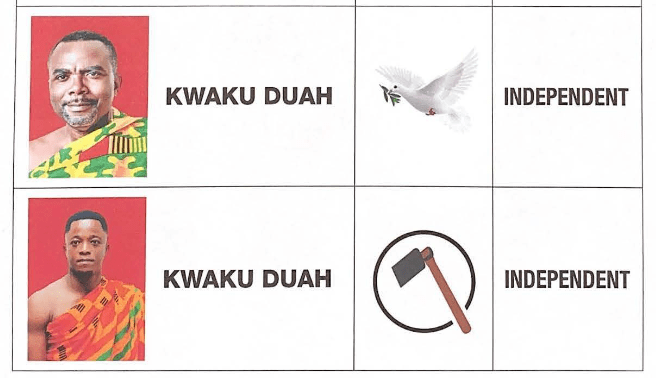 A notice of poll circulating on social media in relation to the Kumawu by-election has been described by the Electoral Commission (EC) as fake.
The said notice has two independent candidates bearing same name, Kwaku Duah, both wearing kente cloth with a dove as their symbol, even though the last candidate's is a skeletal version of the other.
But the EC has clarified in a statement issued Sunday, May 21, 2023, that the said image making rounds on social media was a proposed notice submitted to its outfit for approval by the district office.
The Commission says the notice was neither approved nor gazetted and should be disregarded by the public.
"The attention of the Electoral Commission has been drawn to a Notice of Poll circulating on social media purporting to be that of the Kumawu By-Election. The Notice of Poll has the photos of two Independent Candidates, wearing kente cloth. The said Candidates have the symbol of a bird.
"For the information of the Public, both Independent Candidates presented photographs of themselves in kente and a picture of a bird as their symbol to our District Officer in Kumawu. Based on this, a draft Notice of Poll, bearing the photograph of the Independent Candidates with similar names, attires and symbols was prepared and submitted to the Commission for approval.
"When this anomaly came to the notice of the Commission, the second Independent Candidate
was advised to change his symbol since he was the last to submit his Nomination Form. He refused to do so causing the Commission to apply Regulation 14(1) (b) and (c) of the Public Elections Regulations, 2020, C.I. 127 which states as follows: The Commission has assigned him the symbol of a hoe which is reflected in the Notice of Poll posted throughout Kumawu," the EC clarified in its statement.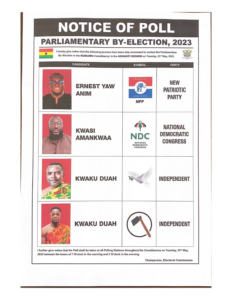 The New Patriotic Party's (NPP) Ernest Yaw Anim is first on the ballot followed by the National Democratic Congress's (NDC) Kwasi Amankwaa, before the two independent candidates in that order for the Tuesday, May 23, by-election.
The by-election takes place to replace the former Member of Parliament, Philip Basoah, who died in March and was buried Saturday, May 20.
READ ALSO: BREAKING: By-election looms as Kumawu MP, Philip Basoah dies at 53