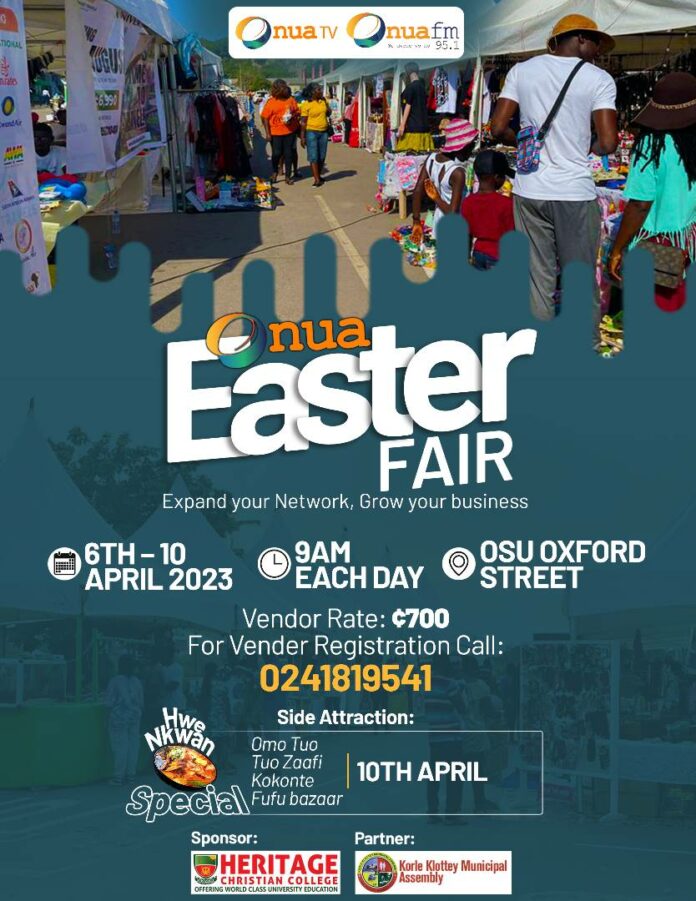 Onua TV and FM are set to place businesses on a pedestal that will set them apart from the rest this festive season.
Starting tomorrow Thursday, April 6, through to Monday, April 10, Onua TV/FM will commence their annual fair to help the business community to come market their products for higher returns.
READ ALSO: 'The bad comes from the West' – Kansaworadohemaa
The Onua Easter Fair which opens at 9am each day comes off at the Osu Oxford Street and will cost patrons a paltry GH₵700.00 to book a stand to display their products.
Aside from the many that will troop the grounds to patronise wares of participants, the opportunity to be heard on the brand will provide an avenue to reach out to more customers across the country and beyond.
This will aid businesses that will participate to expand their network, grow their businesses, and put their goods and services in the eye of existing and prospective clients.
The Heritage Christian University sponsored event which is in partnership with the Korle Klottey Municipal Assembly will also be spiced with the Hwe Nkwan food bazaar where local delicacies like Fufu, Banku, Tuozaafi, Omo Tuo and others will be available for sale.
READ ALSO: [PHOTOS] Onua Thanksgiving Breakfast: And the Heavens indeed kissed Ghana as thousands stormed Media General premises
Additionally, the number one midmorning show in Ghana, Adwuma Adwuma, hosted by the versatile and sensational Felicia Osei will be crossing over intermittently to bring listerners up to speed on activities on the ground, likewise the second to none drive time show, Efie Ne Efie being handled by the 3 Wise Men (Dr. Prekese, Papa Shamo and DJ Willie).
The event promises to be historic and it is better to be part of history than merely living to tell it.
Source: Onuaonline.com|Ghana