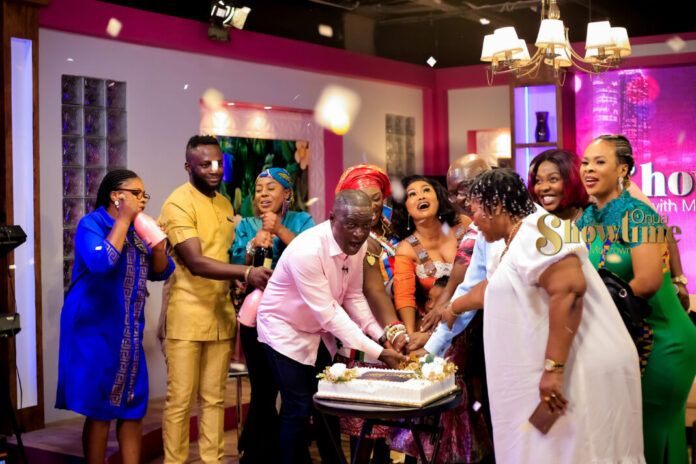 The long awaited lifestyle show, Onua Showtime with McBrown, has been launched Sunday, April 30, 2023 at Media General premises, Adesa We, Kanda.
The show, which according to Captain Smart was an event, lasted for 5 hours, starting from 5:30pm with a red carpet and snack time where audience shared their expectations, including those from social media which were all transmitted on live TV and on social media, through the Facebook pages of Onua TV/FM, Akoma 89.7 FM in Kumasi as well as Connect 97.1 FM in Takoradi on live streaming.
McBrown was ushered onto the stage with live band music from the Arc Band with performance from Ewurabena, a 2023 VGMA nominee.
After joining her sing Daughters of Jesus's 'Bebree na w'ayɛ ama me afe yi', musician MOG also joined with a powerful ministration.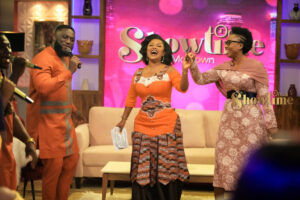 Artistes Dope Nation, Fameye, Yaw Tog and Lasmid joined King Promise and comedian OB Amponsah at the launch of the show with each sharing their expectations with some mini performances.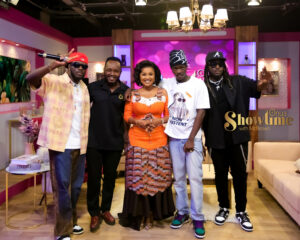 Vox pop from the streets with participants ranging from market women to students, artisans and people from the corporate world expressing their expectations from from the show were also played.
Video recordings of Asante Mamponghemaa, Nana Afrakoma Dufie II, making her eulogies to the "pride of Ashanti" was interspersed with that of actor and host of Ɔdɔ Fever on Onua TV, Kwaku Manu, all to welcome her once again and draw Ghanaians attention to what's in store for them as far as Onua Showtime with McBrown is concerned.
Also on the bill was winner of Season 11 of TV3's Talented Kidz, AK, who sparked the audience with a poetry of eulogy for the Empress after serving as a talking drummer to a little girl who ushered their entrance on the set. AK after his beautiful poetry said "I expect the show to bring what will go beyond the understanding of the many who watch it."
Before a cake was cut by the Empress with some dignitaries and General Manager of the Onua Group to officially launch the show, there was a huge surprise that brought the drama of emotions.
Nana Ama McBrown's husband and beautiful daughter joined her on stage after she had been asked to turn around for the surprise that awaited her. The Empress, in her bewilderment upon seeing her first family knelt down to embrace her daughter and utterred on the lighter note, why her husband has joined her on stage after telling him she was leaving for work earlier in the day.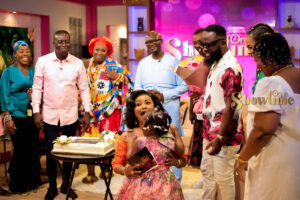 Kumawood actress Christiana Awuni also joined in the launch at the studio on the night.
Audience reactions from social media was not left out as Felicia Osei, host of Onua FM midmorning, 'Adwuma Adwuma' read some comments from both twitter and Facebook as the show was ongoing.
General Manager of Onua Group during his brief speech expressed surprise at the turn of events and asked Ghanaians to expect more.
"Wow! what a great night and great show. We've all witnessed a great show with compelling content. I want to tell viewers to expect some more," Stephen Schandorf, the General Manager asserted.
For his part, Captain Smart, host of Maakye on Onua TV/FM opined "Onua is now at the top and when you're on top, you become the topic."
The launch was climaxed with gifts from sponsors of the show to the studio audience and those who viewed from a giant screen at Media General's premises.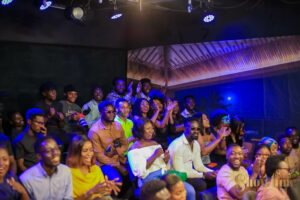 Under their seats were attached pieces of paper that had items ranging from kettles, pomade, irons and a host of others from the various sponsors that were picked at the exit of the studio.
Onua Showtime with McBrown shows every Friday and Sunday at 7pm to 9pm.
Follow @Felix Anim-Appau