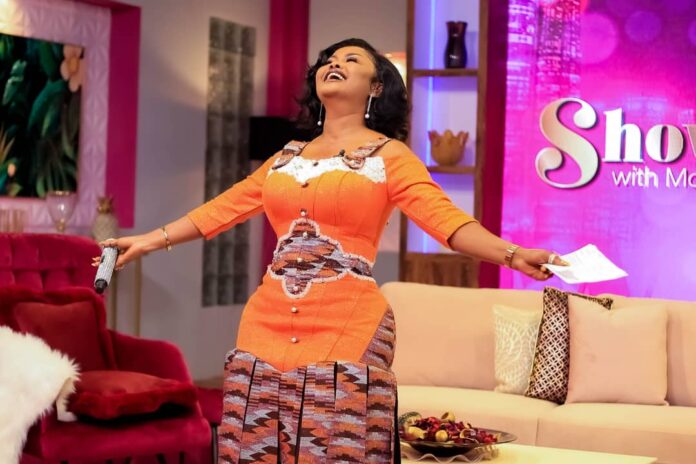 The evening of Sunday, April 30, 2023, saw the launch of the long awaited lifestyle show, Onua Showtime with McBrown at Media General premises, Adesa We, Kanda.
The event which span across the social media networks of Akoma FM in Kumasi, Connect FM in Takoradi, as well as Onua TV/FM had a prior engagement of audience by Ohemaa Acheampongmaa, Entertainment news anchor on Onua TV.
Enjoying the bazaar of sobolo, asana and other local drinks that were served, the audience who arrived from 10 in the forenoon were asked to share their expectations ahead of the launch and the programme as a whole.
Following these was the ushering of the host, Nana Ama McBrown, into the studio with live band music from the Arc Band and a live studio audience who welcomed her with an uproar and applause.
After taking over the set with 2023 VGMA 'New Artiste of the Year' nominee, Ewurabena, her initial pronouncement was "Ebenezer, thus far the Lord has brought us."
Ahead of the premiere Sunday evening, McBrown asked Ghanaians to make time with her for the full package she brings to the showbiz industry.
Speaking on Maakye Friday, April 28, 2023, she reiterated how she critically analysed her move to Media General, the reason what she unpacks for Ghanaians starting yesterday, is something people cannot not afford to miss.
In her words, she said she came to serve and it was time Ghanaians avail themselves at her service once again.
"Dear Ghanaians, you're my own. I am your sister and you are my siblings. I came to serve you. This year, I'll be 46 years so I critically analyse every move I make. I am here to serve you. Make time with me this and every Sunday and Friday, 7 to 9pm," she indicated in a brief engagement with Captain Smart and the Maakye team.
About Onua Showtime with McBrown
The show is a journey on an uncharted path, of entertainment, education, enlightenment and learning.
READ ALSO: Hackers takeover Facebook page of Church of Pentecost Chairman to sell bleaching creams, penis enlargement products
READ ALSO: Nana Ama McBrown's show finally comes live on Onua TV
Onua Showtime with McBrown will be one like no other as it transports into the lives of its guests and studio audience. True life experiences and life stories that will inspire and uplift its viewers with health discussions that will keep people healthy, interspersed with nuggets of wealth that will aid viewers with financial independence, social issues that matter, real life entertainment, exclusive cuisine and games.
The show will present real life super heroes and find out what makes them tick. Patrons of the show will be inspired by the struggles and celebrate the successes of these great achievers and be impacted by emotional stories that touch the heart of people and impact society.
Onua Showtime with McBrown is a show for the people featuring education, discussions, music, trends, dance and lifestyle discussions.
It will worth the experience as Ghanaians get ready for the ride of a lifetime.
Onua Showtime with McBrown airs every Friday and Sunday from 7pm to 9pm on Onua TV.
READ ALSO: What Onua Showtime with McBrown offers Ghanaians as programme premieres Sunday
Follow @Felix Anim-Appau