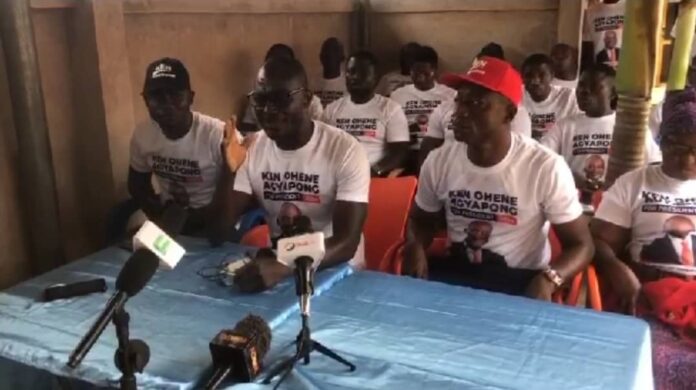 Following the resignation of former Trade and Industry minister, Alan John Kwadwo Kyerematen, his supporters in the Oti region have thrown their support for Assin Central Member of Parliament, Kennedy Ohene Agyapong, for the November 4 primary.
The supporters say their deciding factor in the upcoming presidential primary is job creation, a vision possessed by both Alan Kyerematen and Kennedy Agyapong. They explain that the exit of Mr. Kyerematen leaves them no other choice than to vote for the Chairman of Parliament's Defence and Interior Committee, Kennedy Ohene Agyapong.
At a press conference in Dambai Thursday, September 28, 2023, spokesperson for the group, Francis Songeh, indicated their decision is borne out of Mr. Agyapong's dream of creating jobs for the youth of Ghana which was a vision espoused by Mr. Kyerematen before his resignation.
He said "Alan has plans to transform Ghana, he has planned to create jobs for the youth in the country to get jobs to get money in their pockets. However, for whatever reason, he has decided to quit the party. We find similar ideas in Kennedy Ohene Agyapong. Per what he is propagating, already he has some factories established in Ghana. He is somebody who can speak for the youth, cares for the youth and believes in the creation of jobs."
He continued that "we believe strongly that if we get Ken as the next president of Ghana, he will create jobs and the job creation will spread across the country and Oti region will be a beneficiary. Our youth will get jobs. If you look at the aspirants so far, there is none of them preaching this message. It is only Ken Ohene Agyapong who is preaching this message. He is the man to lead NPP come 2024 elections."
Meanwhile, a member of the Ken Agyapong national campaign team, Hayford Obeng, welcoming the members expressed happiness over the turn of events saying they are going to join forces to work to ensure the dream of Ken Agyapong becoming president of the Republic becomes a reality.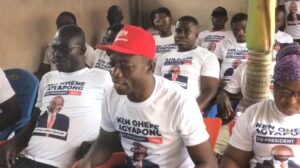 "We team Ken Agyapong are happy over what has happened today. I welcome you all on behalf of Hon. Ken Agyapong. The exit of Alan leaves Ken Agyapong as the next viable person for the race. Your coming is divinely ordained and at the right time. Those of us already in the team will work harmoniously with you," he assured.
READ ALSO: Ken Agyapong will give Bawumia a 'showdown' in November 4 presidential primary – Kwame Owusu