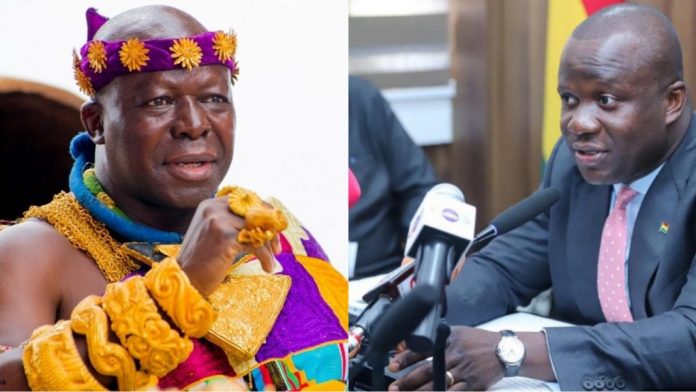 The Asantehene, Otumfuo Osei Tutu II has taken a swipe on the Lands and Natural Resources minister's assertion that chiefs should be blamed for the incessant illegal mining in the country.
Speaking at the 40th anniversary of the Faculty of Renewable Natural Resources at KNUST, Samuel Abu Jinapor, the minister, noted chiefs and other community leaders are complicit in the illegal mining business since their approval is sought before any such activities are carried out on their lands.
"I come from a Palace and I can say without a shred of equivocation that in most cases, no one bring an excavator to mine in a forest or chamfine to work on a river body in a community without the knowledge or passive approval of the chief, elders, opinion leaders, assemblymen and local authorities in the community. We have to begin to be blunt about this situation on our hands. It is the honest truth".
Meanwhile, the Asantehene objected the assertion saying concessions are concerted by government without prior notice of the traditional authority.
He says the Constitution of the land wields all natural resources at the bosom of the presidency who gives out concessions to people at without any consultations and doesn't see why the minister should call chiefs out for the canker.
"The concession is given by the authorities in Accra, the chiefs don't give concessions so there is little they can do about it. The chiefs will be there and people will bring documents saying they've been given the permission to mine. Who consulted the chief for him to even supervise the activity?
"The constitution says the minerals is being held in trust for the people by the President. So chiefs cannot do much about it".
Meanwhile, the Faculty of Renewable Natural Resources at KNUST has been tasked to come out with sustainable management of the country's natural resources.
The Theme for the anniversary is "40 years of training natural resources managers: A new age for a new focus".
The alumni plan to construct a 300-seater computer and GIS laboratory for the faculty as part of efforts to enhance training natural resource managers.
By Ibrahim Abubakar|AkomaFM|Onuaonline.com