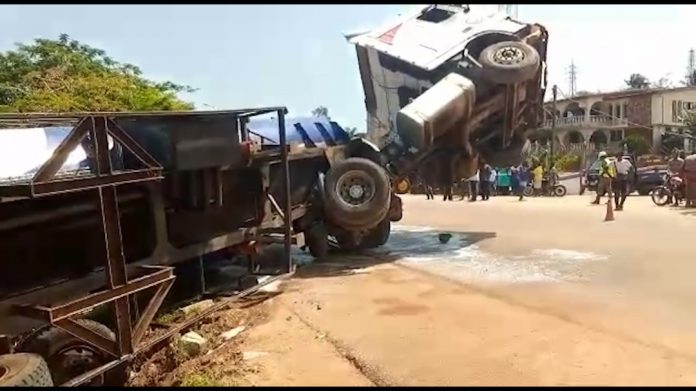 The timely intervention of a combined force of personnel from the Ghana Police Service and the Ghana National Fire Service Thursday afternoon, averted what could have been a deadly explosion as scores of residents of Effia in the Effia Kwesimintsim Municipality of the Western Region took over a fuel tanker that had tipped over.
According to a fuel attendant, the fuel tanker with registration number GT 1678-11 had come to their fuel station to offload a product when the incident happened.
The driver of the fuel tanker Sumana Nuhu told reporters he arrived at the Pacific Oil Filling Station at about 1pm Thursday to discharge a product to a client. While entering the station, he beckoned his conductor [mate] to restrain the truck so he slowly enters.
"Unfortunately, the restraining material could not hold the tyres causing the tanker to veer off the road and crushing into a parked vehicle opposite the fuel station. The tanker then tipped and spilled the petroleum content".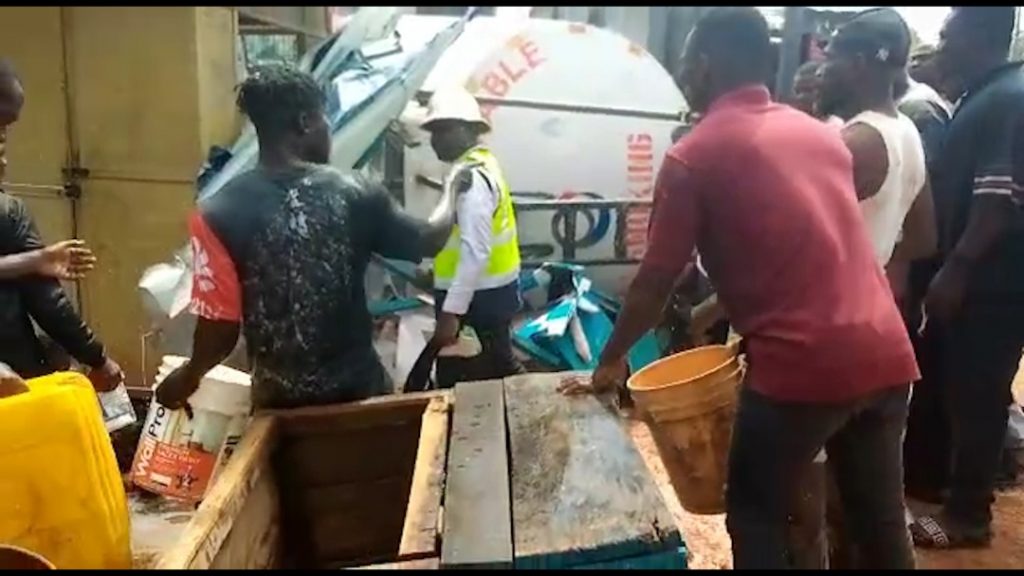 Within minutes, hundreds of residents close by had rushed to the scene with gallons to siphon the spilled product.
Not even the presence of the Western Regional Police MTTD Commander, Chief Superintendent Isaac Sokpah and other officers who had come to control the situation would scare the residents.
In a video sighted by ConnectNews, one of the young men could be seen attempting to heckle Chief Superintendent Sokpah who was preventing people from going close to the tanker.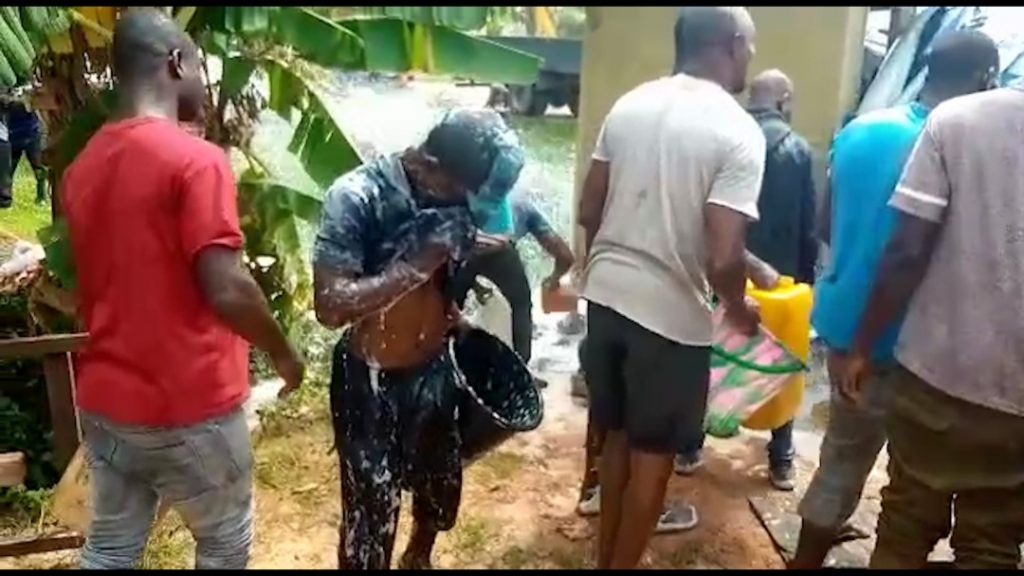 After several minutes of exchanges, while other residents siphoned the product, other personnel from the Ghana National Fire Service came in to help with the situation.
"We immediately arrived at the scene after receiving a distress call. The recovery truck also just arrived here and will proceed with the recovery. We are also waiting for police reinforcement to help prevent the public from siphoning the product because anything can happen… With the slightest spark there could be an explosion. The police men here are not enough. We have also called ECG to cut supply to this area", Western Region Deputy Public Relations officer of Ghana National Fire Service narrated.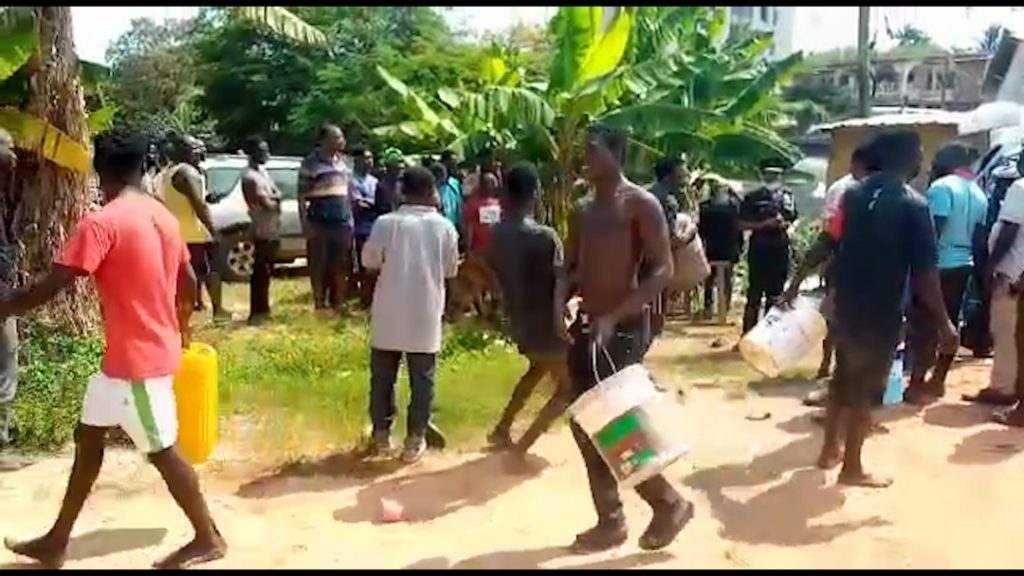 ADO1 Pongo said the road will be blocked to traffic until the spilled product is fully recovered "and so we are entreating the public to bear with us for any inconvenience caused because it is for their own good."
Some concerned residents expressed worry about how the youth rushed in, without regard for their own safety.
Of particular concern to them was the closeness of the Pacific Oil Filling Station to the incident and what could have happened had the police and fire service not quickly intervened.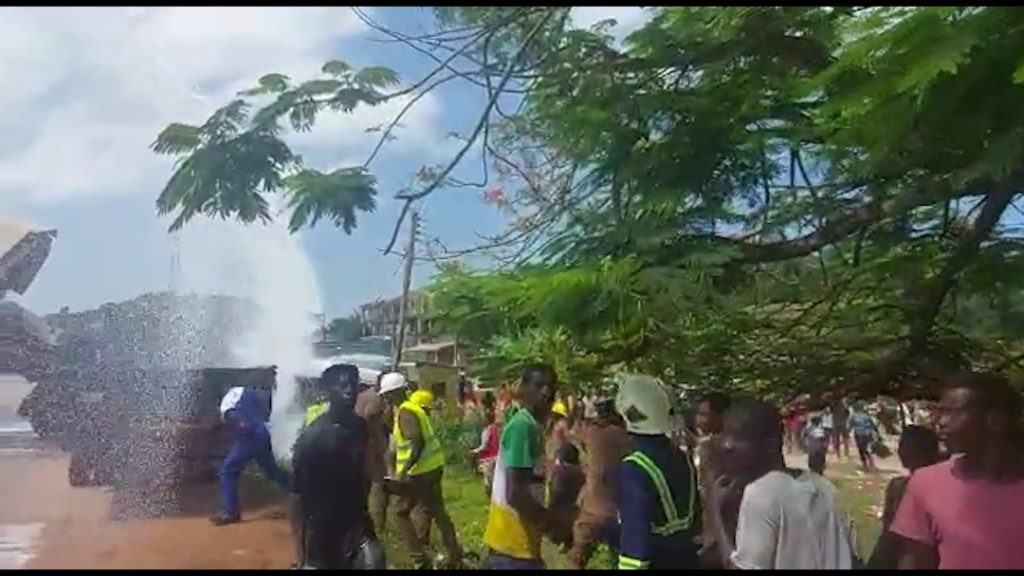 It would be recalled that scores of residents of Sekondi Takoradi suffered life threatening burns and are badly maimed after a gas tanker discharging products at GHUMCO exploded on May 9, 2017.
It seems the GHUMCO tragedy has been forgotten by these youth.
By Eric Yaw Adjei|Onuaonline.com|Ghana