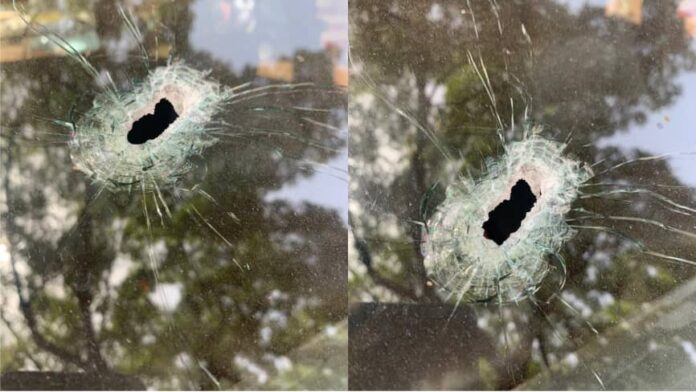 The Public Relations Officer of the Gonjaland Youth Association, Muftawu Habibu, has survived what appears to be a targeted assassination attempt on his life.
On Tuesday, June 30, 2023, at about 10:48pm, Muftawu was on his way home when he got attacked by an unknown gunman.
The gunman staged this attack around Dungu, some distance away from the University of Development Studies (UDS), Tamale campus.
Narrating the incident to OnuaOnline, the PRO said the unknown gunman, on a motorbike, shot into his car from a distance but he managed to escape.
"When I got to the main junction leading to my house after slowing down to take the curve, I saw that the person was on a motorbike and so I became suspicious.
"I decided to veer off the road and then left the car, and that was the moment I heard the sound of a gun.
"I ran through the bush and finally got on the Tamale Kumasi Highway. Some few minutes later, I saw cars parked at the scene with many people gathered by my car, so, I decided to go back to the scene," he narrated how it happened.
He said he made some few calls to friends and family who reached out and assisted him to lodge a formal complaint with the Northern Regional Police Command, who have since caused investigation into the matter.
News of the incident spread rapidly, prompting the Gonjaland Youth Association and other key stakeholders in Gonjaland to condemn the act and further called on the police service to immediately conduct investigations into the matter.
The motive behind the attack remains unclear as police have launched investigations into the matter.
The attack has come at a time Muftawu is leading an unwavering activism towards the reformation of traditional administration in Gonjaland.
READ ALSO: Gonjaland Youth Association secures injunction against paramountcy elevation of Nchumburung chief in Kpandai