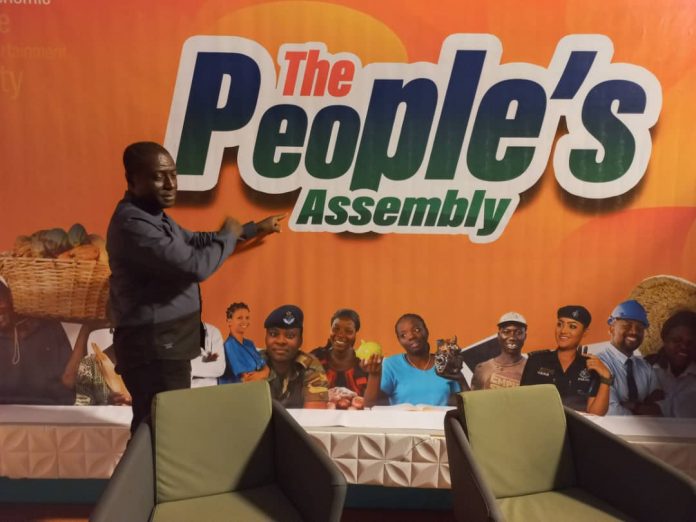 The second edition of Onua TV/FM's Peoples' Assembly starts today, Monday, July 25, 2022 with Captain Smart as host.
Peoples' Assembly is a sociopolitical platform that gives the general public the opportunity to be live in the studio to speak their minds on issues confronting them.
It has a multifaceted outlook which grants studio audience to either air their problems or profer solutions to already existing challenges..
It would be running from today till Friday, July 29.
Today's edition will host Kofi Koranteng, a 2024 Presidential Hopeful; Ivan Innocent Kyei, a youth activist and social commentator and Nii Aryee Opare, Spokesperson for the Economic Fighters League.
The programme is kickstarting with a discussion tailored towards the challenges facing the various sectors and work unions in the country.
On Tuesday, Financial experts and other Public Relation Officers would be delving into the economic challenges confronting the nation and help propound solutions to, if not all, most of the issues that would pop up during the discussion.
Religion plays a major role in the lives of Ghanaians and Africans as a whole. The need to critically analyse issues of religious concerns is paramount, the reason the Day 3 of the Public Forum would seek ideas from representatives of the major religious bodies in the country, before the plenary take over.
On Thursday, which is the fourth day of the event, sports pundits would look at how the nation can extend its tenterhooks in the industry and rejuvenate the dying passion of Ghanaians for various disciplines within the sporting fraternity.
Elsewhere across the globe, many are making enterprises in the arts and entertainment industry. But in Ghana, thousands of talents have been buried under the carpet because there was nobody to help. In order to arrive at how the Showbiz industry can improve to employ more people, the Public Forum will discuss the entertainment industry and the way forward.
You can't afford to miss any of the days as Captain Smart and his other co-hosts delve into the topics raised.
By Felix Anim-Appau|Onuaonline.com