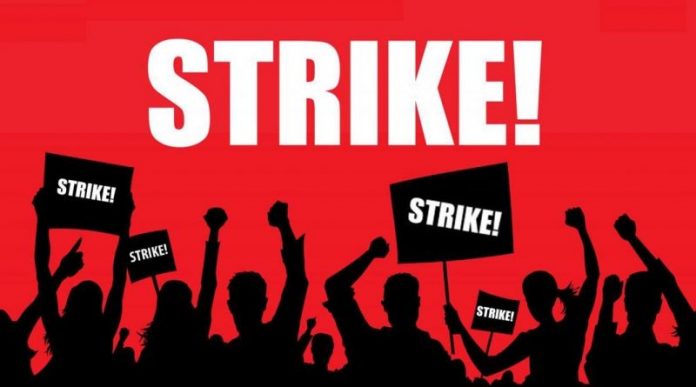 The Senior Staff Association of the Universities of Ghana (SSAG-UoG) and the Federation of Universities Senior Staff Association of Ghana have declared an indefinite strike over 20 per cent cost of living allowance, COLA effective today, Wednesday, July 13, 2022.
The unions have subsequently dared the boss of the Fair Wages and Salaries Commission (FWSC), Ing. Benard Arthur to freeze the salaries of staff after they declare strike.
In a speech read to the media, National Chairman of the SSAG-UoG, Isaac Donkor noted the Chief Executive of the FWSC threats of freezing their salaries among other things is what has triggered their action.
They see his actions and utterances as against that of a public official who is supposed to preach and practice equity but only does the former.
"The CEO Ing. Bernard Arthur of Fair Wages and Salaries Commission has threatened to withhold all salaries of senior staff if we embark on strike action. We believe that his posture was intimidating and also an affront to the position he occupies as a public officer who preaches equity but practice none.
"We dare him on his claim, the unprofessional conduct of his actions and continuous access of GTEC and GCG from our negotiations has even triggered our resolve to call for a strike action," he read.
The Association further berated the preferential treatment for some of its members, describing the act as "unscientific and discriminatory".
"We still maintain our position that government has been unfair to the senior staff cadre of public universities in Ghana. In our candid opinion, the award of allowance to selected few within the senior staff category in public universities and our compatriots in other unions is unscientific and discriminatory.
"We therefore expect government to act fairly towards senior staff in the public universities by extending the generic allowance and interim market premium to all members of our Union without further delay.
"By this, the national executive council of SSA of Universities of Ghana and the Federation of Universities SSA of Ghana hereby direct the complete withdrawal of our services with immediate effect until further notice.
By Felix Anim-Appau|Onuaonline.com|Ghana