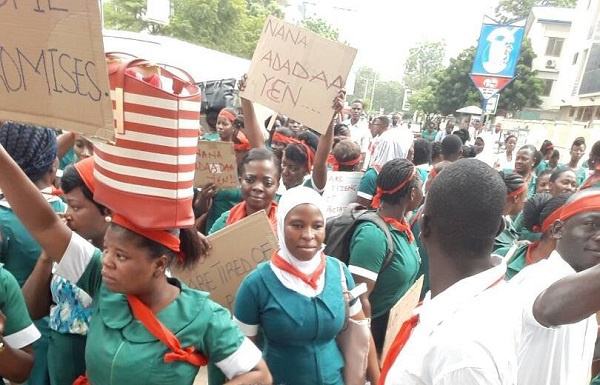 The Ministries police station has arrested four nurses and midwives at the Ministry of Health in Accra yesterday.
The four are part of about 25 unposted nurses and midwives from the second batch of the 2019 year group.
They had gone to the Ministry of Health to seek update on their posting date.
Speaking on Onua TV/FM's morning show, 'Maakye' Wednesday, July 13, 2022, Vivian Dwirah, one of the nurses who was arrested said they were charged for deceiving officials at the Ministry.
Vivian noted they had earlier planned to protest against their postings but were informed to exercise patience since they were going to be assigned in the shortest possible time.
She added they had been going to the Ministry from time to time for update just like yesterday.
However, when officials at the Ministry refused them access to the HR, they insisted on staying back until they're attended to.
Whilst waiting, police officers came to arrest them. When they were finding no charges against them, the officers asked of the first two persons who entered the office and arrested them for deceiving those at the ministry.
Miss Dwirah said when she intervened to plead on behalf of the two, she was arrested. One other guy, who also tried explaining things was also arrested with them.
They were granted bail and asked to re-appear by 10 am Wednesday to be processed for court.
She spoke with Captain Smart on the morning show.
"They say our offence was that, when we got to the Health Ministry, we told them we were going to the IPP instead of the nursing department. We entered and asked to see the HR. Then when we inquired about our postings, they arrested us. So they said if we had told them that we were going to the nursing department, they wouldn't have allowed us.
"We wrote our statement at the ministries police station. They released us and good us to report ourselves today before they are going to process us for court.
By Felix Anim-Appau|Onuaonline.com|Ghana