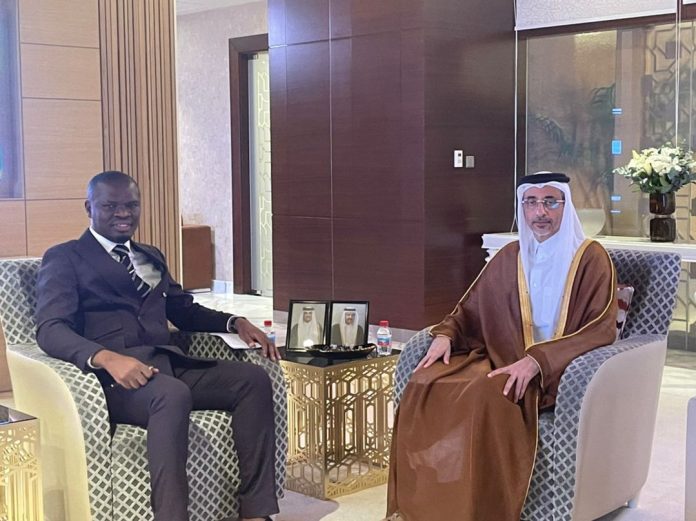 The Minister of Youth of Sports, Hon. Mustapha Ussif, has paid a courtesy call on the Sports Minister for Qatar, His Excellency Salah bin Ghanim Al-Ahli to strengthen the relationship between the two nations.
Hon. Ussif first took a tour of the 3-2-1 Olympic and Sports Museum where he was accompanied by His Excellency Sheikh Mohammed bin Abdullah Al Thani to study their maintenance and revenue generation methods.
He then visited the Minister for Culture and Sports, His Excellency Salah bin Ghanim Al-Ali to discuss ways of forging a stronger relationship between the two nations.
Hon. Ussif highlighted the increasing number of Ghanaians playing in Qatar including Black Stars captain Andre Ayew and will be happy to partner with corporate and sports bodies in ensuring that Ghanaian talents benefit.
He also requested infrastructure support for Ghana including a possible donation of 1 of the stadiums which will be used for the 2022 World Cup. The Qatari government earlier indicated that they will donate their stadiums assembled.
The Ghanaian Sports Minister went on to commend the successes of Aspire Academy, a Qatari academy, and aims to replicate the academy's feats in Ghana to help in unearthing talents in the country.
He also made an enquiry about a possible partnership between the Saad football team and any local club in Ghana. Hon. Ussif noted that any possible partnership can be done on a governmental level and after a while, it can be continued on club level where technical members of clubs could go to Qatar for some training.
Hon. Ussif further indicated that a team should be set up by the two sister ministries to deliberate on the issue in order to reach an agreement for its implementation.
Source: 3Sports