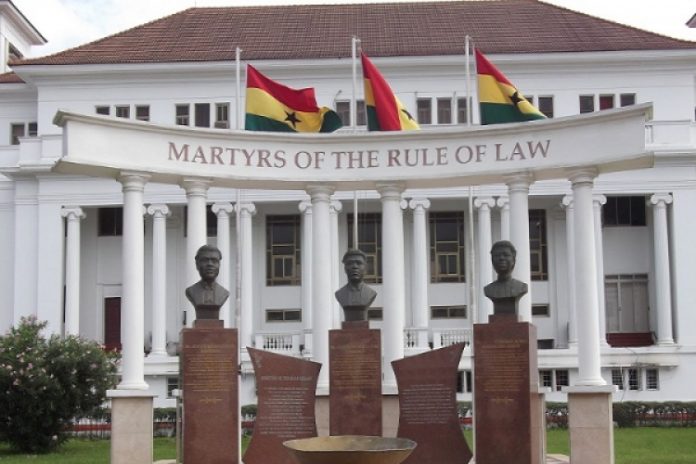 A ruling by the Koforidua High Court preventing a Regional Youth Organiser of the opposition National Democratic Congress to carry himself as such has been quashed by the Supreme Court. 
The apex court as part of its ruling has barred the High Court judge from further adjudicating the matter.
Richard Etornam Nyarko was elected Eastern Regional Youth Organiser for the party on November 11, 2022.
READ ALSO: Comparing Griffiths to Joe Anokye is like equating Akpeteshie to Johnnie Walker – Atubiga
The regional Youth and Women wing elections held at Nsawam-Adoagyiri was characterised with dispute. In the polls, incumbent Emmanuel Okai Minta was defeated by Nyarko with 55 votes to 52, putting him ahead with 3 votes.
However, Minta, who was defeated challeged the validity of the polls saying some delegates from Atewa West and Afram Plains South were unqualified following a nullification of the election in those constituencies by the Functional Executive Committee of the party in a press statement.
Minta, the incumbent who got defeated, filed a petition at the Koforidua High Court asking it to perpetually injunct Etornam Nyarko from holding himself as Regional Youth Organiser or any other office until a fresh election had been organised.
Citing the participation of the Atewa West and Afram Plains South delegates, Minta asked the High Court to annul the votes for the infractions.
READ ALSO: Prophet reveals Judas's 'real' intention for betraying Jesus
A ruling by the Koforidua High Court on December 8, 2022, granted Minta's application, subsequently preventing Nyarko to hold himself as a regional executive of the party. Despite the substantive case which was yet to be heard, the High Court also nullified the election as the applicant was seeking.
Nyarko filed a review application at the Supreme Court asking it to quash the High Court decision, saying the judge erred in granting all the reliefs sought by Minta.
He also claimed that the High Court did not have jurisdiction to decide the matter until the case had been fully heard.
Nyarko also asked the Supreme Court to transfer the case to a different judge preventing the first adjudicator from sitting on the matter, arguing that the Koforidua High Court had already decided on the matter.
READ ALSO: Ghana's 4×100m team breaks National Record at World Athletics Championship in Oregon
A Tuesday, April 18, 2023, ruling by the Supreme Court in a Justice Gabriel Scott Pwamang-led panel unanimously quashed the High Court ruling, preventing the judge from sitting on the case again.
"The ruling is significant because it reinstates Nyarko as the Eastern Regional Youth Organizer of the NDC, allowing him to carry out his duties. It also sets a precedent that prevents High Court judges from issuing rulings that effectively decide cases before they have been fully heard," Nyarko's legal team expressed, professing their gratitude to the court.
By Felix Anim-Appau|Onuaonline.com