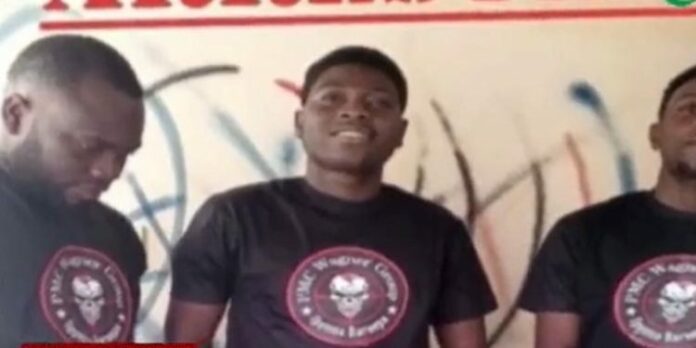 Three (3) young men identified as Evans, 25, Michael Asiedu, 23, and Ernest Asiedu, 26, have been arrested by the Western regional Police Command for their alleged ties to Russia's Wagner mercenary.
They were arrested at a public durbar at Diabene, a community in the Sekondi-Takoradi Metropolis, after they displayed flags of the Wagner group and Russia.
The three young men mobilised about 20 youth to launch a military group on the Diabene community park with an alleged sponsor from Australia. But they were apprehended upon a tip-off to the police.
The Assemblywoman of Fijai, Ramatu Ibrahim, who is in charge of Diabene, confirmed the incident and expressed shock, calling for their prosecution.
"The police said after arrest and interrogation, the boys said they were doing a freedom demonstration, they said they were training on how to wage war against the government, so I asked how? They were hoisting different flags of different countries, and playing the national anthem.
"Their influential leader is abroad, and the leader in Ghana is 25 years old, after the police explained things to them, they realised that they didn't know what they were in for. I learnt they were promised some money if their planned action becomes successful," she disclosed.
The three have already been to court on two occasions according to Promise Mensah, the Spinner who was arrested together with them for providing sound and music for them at the durbar. He told Accra-based Citi FM they are currently on bail.
The Western Regional Police Command has, however, confirmed the incident on Citi FM, promising to provide further details soon.
READ ALSO: Bawku: 7 arrested with guns after shootings that claimed one life, injuring 4 others