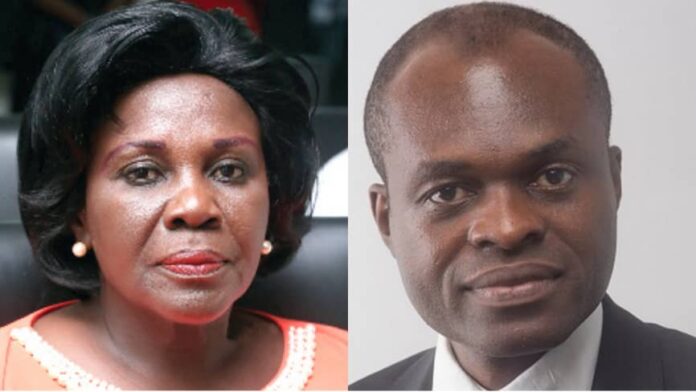 Lawyer Martin Kpebu has said unlike the James Gyakye Quayson case, the theft at the residence of the Water Resources and Sanitation Minister rather deserves a daily hearing.
The private legal practitioner says the onus is on Cecilia Abena Dapaah to justify the source of the money that was stolen from her residence at Abelemkpe, a suburb of Accra.
Speaking on the Key Points with Alfred Ocansey on TV3 Saturday, July 22, 2023, Mr. Kpebu explained the need for the OSP's intervention in the matter for Madam Dapaah to prove to the citizenry how she acquired the money and why she kept same at her residence contrary to the constitution of Ghana.
READ ALSO: Breaking the 8: 'Adopt the 442 formation in football' – Dr. Sarpong advises NPP
"If you go into the [Anti-money laundering] Act 10(44), …so the burden will then be on Madam Dapaah to show us how she got that income not a burden on the state. The burden will be on Madam Dapaah from the Constitution, then Act 10(44) and the OSP law to justify how she got the money so she should by now be hot and answering questions on this matter.
"The criminal matter can also go. They can go in tandem. This is the one that needs a daily trial. This is the typical one that needs a daily trial so the citizens should get up and add their voices for a daily investigation and a daily trial of such a matter," he stated.
Explaining the need for the Office of the Special Prosecutor's intervention, Mr. Kpebu said the Constitution mandates it to get involved without necessarily receiving a complaint from a citizen.
READ ALSO: Akufo-Addo-Bawumia led gov't greatest political scam in the history of the Fourth Republic – Mahama slams
"Thankfully under the OSP law 959 they don't even need a complaint. That's why citizens are calling on the OSP to step in. Once they hear about it they can step in. Apart from the Act 959, there is also the LI 2374. Regulation 1 of 2374 sub-regulation 2(C) it says: On its own acts on:
(a) a corruption allegation or corruption related allegation
(b) reasonable suspicion of the commission of corruption or a corruption related offence.
"So these matters bother both on the suspicion and corruption allegations so we citizens are already seeing it as corruption. So once the allegations are wash in the media there, that's a fine case for the OSP to step in," Lawyer Kpebu explained.
The Sanitation and Water Resources Minister, Cecilia Abena Dapaah and her husband, Daniel Osei Kuffuor reported their house help and a former house help to the police for conniving with three others to steal monies and properties including a $1million, €300,000, several millions of Ghana Cedis, jewellery, suits, kente cloths and other times worth millions of Cedis.
READ ALSO: Brief facts about Cecilia Abenaa Depaah's money hoarding scandal