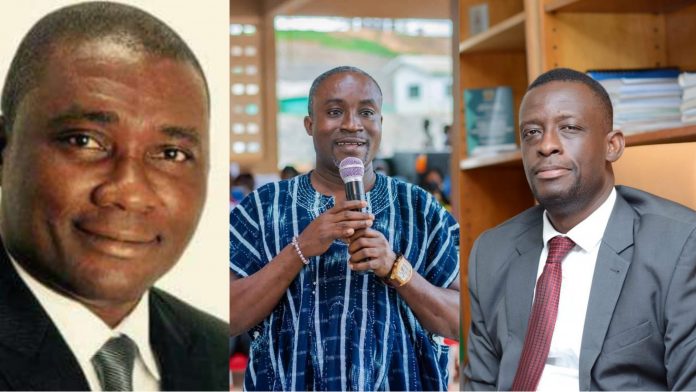 The Dompim-Pepesa chief, Nana Nyomwah Panyin IV, has alleged three government officials in the Western Region have asked him to join them do galamsey if he can't fight them.
According to the chief, the rate at which forests are being destroyed in his area is alarming, the reason he met with the pepertrators to discuss with them to help protect the environment.
According to the chief, the Western Regional minister who is also Takoradi MP, Kwabena Okyere Darko Mensah, the Tarkwa MCE, Benjamin Kesse and Deputy minister of Lands and Natural Resources, George Kofi Mireku Duker who is also the Member of Parliament for Tarkwa Nsuaem are those championing the very menace the President claims to be fighting.
READ ALSO: 'They are after my life because of the little truth I said' – Dompim-Pepesa chief on exposing gov't appointees doing galamsey
Speaking Wednesday with Captain Smart on Onua TV/FM, Nana Panyin V noted the Tarkwa Municipal Chief Executive, Benjamin Kesse, had told him at a meeting between them where Mireku Duker was present to join them do the galamsey if he cannot fight them.
Due to their diabolic agenda, Nana noted he was asked to leave his phone with Mr Duker's security to prevent anyone from recording one another when he once visited the MP in his office at Job 600.
READ ALSO: 'I'm not God to know everything that happens in my municipality' – MCE's response to galamsey activities in his area
He, however, admitted that the regional minister, Kwabena Okyere Darko Mensah was not present at the said meeting but was mentioned by the MCE as the one dealing with the top guys in the galamsey business.
Watch from the video below
Meanwhile, Benjamin Kesse denied on the same show ever having any such discussion with the chief and he has even met him once since 2021 when they discussed chieftaincy rather than galamsey.
By Felix Anim-Appau|Onuaonline.com