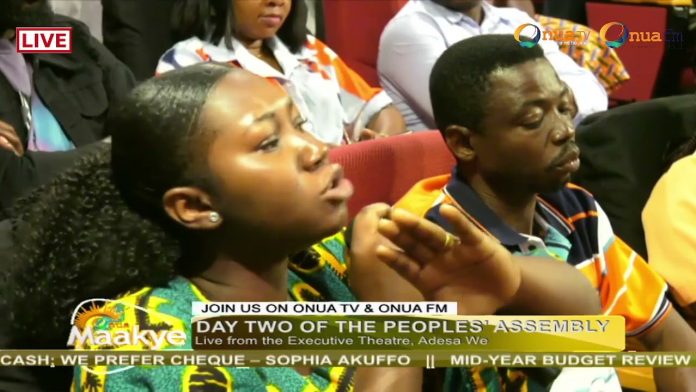 Day two of Onua TV/FM's Peoples' Assembly came off Tuesday July 26, 2022 with a look at the economic challenges confronting the country.
Financial experts as well as the general public were engaged on the current state of Ghana's economy, why it got there and the way forward.
A young lady who expressed her views after hearing from the pundits was of the view that, corruption has become the bane that has pivoted Ghana's problems, a canker that must be tackled from the head.
In her analysis, politicians should be made to swear into office with the gods – all the rivers and deities within the jurisdictions of Ghana – to ensure they stay true to their words.
According to her, the Bible and Qur'an which the Christians and Muslims are made to swear with have no direct check up on their attitudes to coerce them to strict conformity, unlike the gods who will strike them once they embezzle state funds and indulge in any form of corruption.
Watch her in the following video making her contributions on 'Maakye', the morning show on Onua TV/FM where the Peoples' Assembly took place.
By Felix Anim-Appau|Onuaonline.com