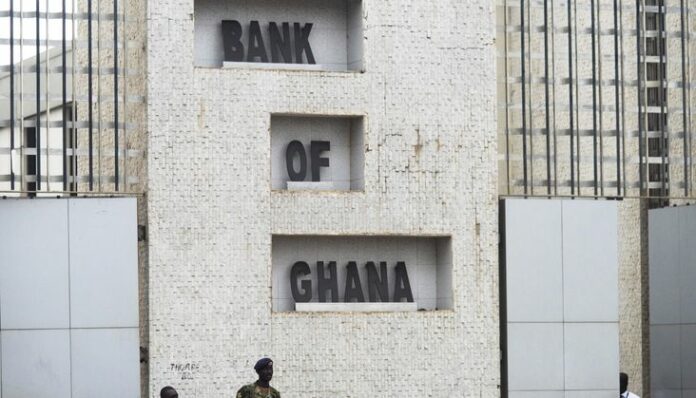 The Bank of Ghana (BoG) has said its current head office has failed structural integrity test and can no more serve the purpose for which it was built over six decades ago, the reason they are putting up a new one.
According to the Central Bank, government's objective of making Ghana the financial hub of the sub-region with prospects of the BoG becoming the potential control centre for a regional Central Bank in the future requires a head office that is fit for purpose.
In a statement issued by the bank Wednesday, August 9, 2023, it explained that occupants of the edifice are prone to safety risk in case of natural occurrences considering how old the building is.
READ ALSO: Bank of Ghana spends GH¢358 million to restructure government debt in 2022 – Annual Report
"The outcome of the structural integrity work was that the main building does not satisfy the full complement of excess strength required for a building to be considered safe for usage. This means that in the case of a worst-case gravity and wind loading scenario, for example, unusually strong wind, the building may be significantly affected.
"The building also does not have the required strength to withstand the expected imposed significant earthquake loads that would be expected to occur in the Accra area. Based on the above, and looking at the strategic objective of positioning Ghana as the financial hub of the sub-region, with prospects of a potential Headquarters for a future regional Central Bank.
"The Board and Management of the Bank considered a new Head Office building as the most important priority project to support the operational efficiency of the Bank, and also position the Bank of Ghana in a very good position to be the host of the regional Central Bank as we currently host the West African Monetary Institute (WAMI) of the sub-region."
READ ALSO: Next NDC government will jail Ernest Addison – Sammy Gyamfi
The justification stems from a revelation by the Minority in Parliament indicating the BoG has awarded a US$250 million contract to build a new head office at a time the bank's financial position is in ruins.
During their 'Moment of Truth' series at the headquarters of the NDC Tuesday, August 8, 2023, Minority Leader, Dr. Cassiel Ato Baah Forson, stated that, the governor of the BoG, Dr. Ernest Kwamina Addison, had printed new currencies to put up the structure since the central bank was now insolvent.
"The Bank of Ghana does not have money but spending $250million for a new head office, which means he is printing additional money to finance this project," Dr Forson said.
To that effect, a 21-day ultimatum was given to the governor and his deputies to resign or face the wrath of the Minority.
READ ALSO: BoG's GHS60B loss: 'Mahama bɛgye wo boɔ' – Captain Smart presents a 'stone' to Mahama in absentia on live TV for hanging him 'unjustly'
He said "we have to get this Governor out and let us have a new Governor. If we allow him to stay in the office, we will set bad precedence for future managers to do the same. He has messed us so much that we cannot wait to see his back. We demand the immediate resignation of the Governor and his deputies within 21 days. We will march to occupy the central bank to save the Bank of Ghana if he fails to reign. The March will ensure accountability."