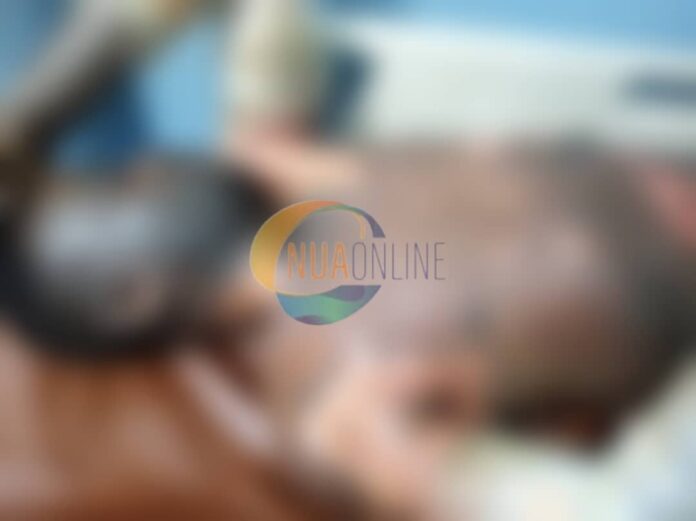 A 35 year old man whose name was given as Dandu Painter has allegedly set Kofi Kumi, 39, ablaze on Wednesday, April 26, 2023, at Sefwi Bekwai in the Bibiani Anhwianso Bekwai municipality of the Western North region.
Narrating the ordeal to OnuaOnline, Correspondent Emmanuel Sowah said the deceased's mother, Yaa Foriwaa explained that her son (Kofi Kumi) went to a nearby community called Kojina to decorate a dead body and in the process entered a drinking spot to take alcoholic beverage which he refused to pay.
She said the drinking spot attendant told her sister at Sefwi Bekwai to retrieve her money from the deceased ( Kofi Kumi), which brought some misunderstanding. The family, according to the mother went to the lady to settle the issue, which she forgave him.
"So, the next day, what we heard was that someone had informed the lady's husband (Dandu Painter), that Kofi Kumi has rained insults at her wife and even used 'f' words, so Dandu Painter in the process got angry and decided to buy petrol from a nearby fuel station," she explained.
READ ALSO: Pastor in police grips for assaulting woman over stealing allegations 
READ ALSO: I'm two months pregnant for my sister's husband and I'm in love with him – 25yr old lady reveals
Yaa Foriwaa, Kumi's mother, according to Sowah said the next information the family got was that their son has been set on fire and was rushed to the Greenshield Hospital where he was pronounced dead.
The family is therefore appealing to the Sefwi Bekwai Police Command and IGP to arrest the suspect (Dandu Painter) to face the full rigors of the law.
The body of the deceased has been deposited at the Sefwi Ahwianso Hospital for preservation.
READ ALSO: Woman dies after suffering multiple stabs from 21-year-old man