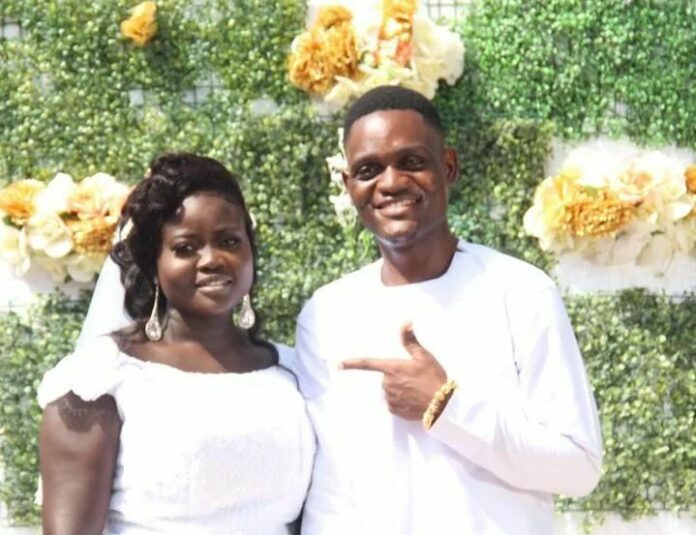 A former contestant of TV3's hit reality dating show, Date Rush, where singles search for love on live television has found love in a shocking twist and tied the knot.
Lovia from Season 6, hounded by fans and the public for her bad grammar could not find her perfect match during her time on the show.
However, fate had other plans and as expected love's cupid found its way into her story.
READ ALSO: I'm single with a baby mama who is an ex' – Pastor tells disguised wife on dating app; woman shares story on Confessions with Ms Nancy
After her performance, the ebony beauty met her lover and soulmate on TV3 premises where the pair hit it off.
The Date Rush couple confirmed their new marital status in an Instagram post on Wednesday, April 5 celebrating their beautiful love story.
"We Met on Date Rush @tv3_ghana and Got Married .. This is reality .. I'm Thankful to @giovani.caleb
#daterush #misslondon," the Date Rush bride wrote.
Lovia said she was grateful to God for her "soulmate" and Giovani Caleb for giving her the opportunity to join the competition despite how hard it was for others to understand her.
"I'm thankful to God almighty for given me my only one soul mate, he's my mate, my friend, my father and my everything. Love you you boo …. Thanks to all those who prayed and supported me during and after my wedding . Thank you God, thank you friends …," she posted.
READ ALSO: Nkawkaw: Blind man beheads wife for threatening to divorce him
The pair has been receiving congratulatory messages since the news broke out.
Date Rush airs on TV3 in Ghana every Sunday at 8PM.
Source: 3News.com|Ghana