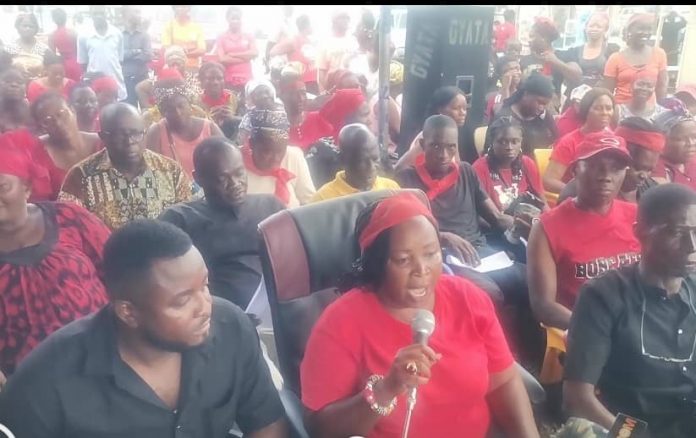 Petty traders at the Kwame Nkrumah Circle in Accra have accused the Klottey Korle Municipal assembly of clandestinely selling their land.
Attempts to get investors to rebuild the market according to the traders have proved futile due to the parochial interest of the MCE.
It's been two years since fire ransacked the Odawna Pedestrian Shopping Mall at the Kwame Nkrumah Circle.
The market was destroyed to the ground, yet the traders are not happy with the slow pace of redevelopment at the place.
Chairperson of the traders Maame Serwaa addressing the media at an event to mark the tragedy on Tuesday, November 22, 2022 was livid at the government's failure to rebuild the market.
She accused the MCE of Klottey-Korley Nii Adjei Tawiah for selling their land to transport unions while turning investors away from developing the place.
"We were here when the assembly asked us to allow the drivers to operate temporarily as the assembly prepares to redevelop the land but the evidence we have indicates they have sold the land.
"That is why the MCE is secretly turning away investors from reconstructing the market for us," she maintained.
Maame Serwah gave the government two weeks ultimatum to reconstruct the market or lead a naked demonstration against the assembly.
Meanwhile, the MCE of Klottey- Korley Nii Adjei Tawiah has refuted claims by the traders stressing that the assembly is undertaking steps to construct a modern market for the traders.
He opined the assembly had engaged a number of investors to redevelop the land stressing that a technical team will soon return from Turkey to start the construction of the market.
Adjei Tawiah reassured the traders and appealed to them to keep trusting the government as plans are farfetched to give the traders a modern market.
By Maxwell Otoo|OnuaFM|Onuaonline.com