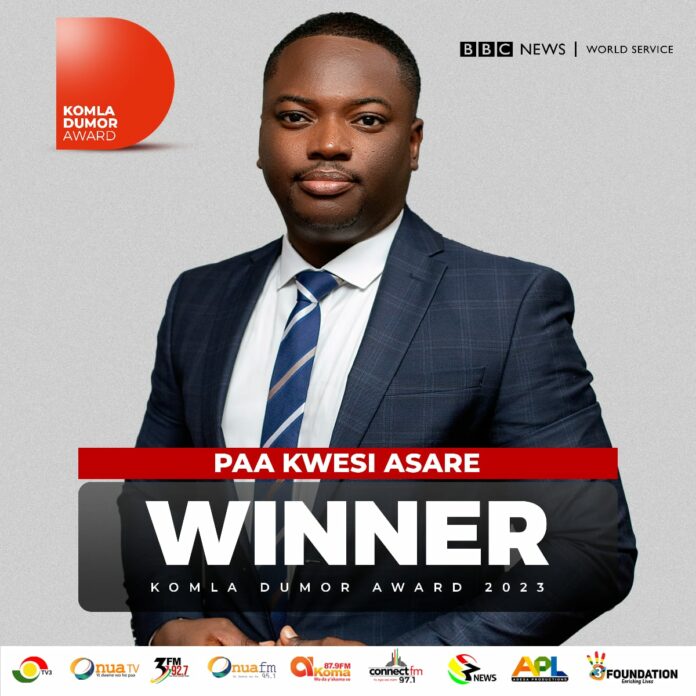 Media General's Paa Kwesi Asare has indicated that, "the distinguishing factor" that made him clinch the 2023 BBC News Komla Dumor Award "is the fact that maybe I was a lot more passionate this time, I was more determined, and I was probably more motivated than ever to win this award this time around."
Paa Kwesi, after filing for the award a couple of times and emerging first runner-up in the maiden edition in 2015 says he was more focused and determined this year, putting in an extra effort to help him win the laurel.
After a short ceremony at the forecourt of Media General to welcome and congratulate him for the feat by management and his colleagues, he told OnuaOnline on the sidelines of the occasion that he is hoping to motivate and inspire the next crop of journalists to live up their dream of attaining the heights they aspire, expressing his felicitations as the first Ghanaian to win the prize.
READ ALSO: I'll rather be a cleaner at Media General than to return to the forest – Captain Smart clarifies rumours
"I'm excited to be the first Ghanaian to win this award and I'm going to take it one step at a time. I'm hoping that through this award I'll be able to motivate and inspire the next crop of journalists. I think that there is a lot of passion with the young ones who are looking up to people like us and take inspiration from us and I believe that through this award, I will be able to impact their lives and share useful lessons and possibly give them training on journalism to help them boost their career," he told OnuaOnline in an exclusive.
Paa Kwesi is currently a TV and radio presenter with TV3/3FM, the mother brands of the Media General group where he has worked since 2016.
Previous winners include of the award include Dingindaba Jonah Buyoya (Zambia), Victoria Rubadiri (Kenya), Solomon Serwanjja (Uganda), Waihiga Mwaura (Kenya), Amina Yuguda (Nigeria), Didi Akinyelure (Nigeria) and Nancy Kacungira (Uganda).
As part of the award, Paa Kwesi will spend three months working with BBC News teams in London across television, radio, and online. He will be given the opportunity to further develop his journalism skills through training, workshops, and mentoring with leading BBC journalists.
READ ALSO: Ahmed Suale's family insists Ken Agyapong's comments led to murder of late undercover journalist
The award was created in 2015 to honour the memory of Komla Dumor, a presenter for BBC World News who was known for his commitment to reporting African stories comprehensively and authentically.
Paa Kwasi Asare had earlier told the BBC that: "I am absolutely thrilled to have won the Komla Dumor Award. This is arguably the most prestigious award for any African journalist, and I am honoured to be in the company of such incredible previous winners. Komla Dumor was a true pioneer in African journalism, and it's a great privilege to be following in his footsteps. This award gives me the motivation to continue striving for excellence in my career, and I am excited to use this platform to amplify African voices and tell the stories that matter to our continent."
The judges were impressed by the quality of Paa Kwesi's journalism, his ability to grasp complex topics and explain them clearly, and a commitment to telling stories that matter.
Liliane Landor, Senior Controller of BBC News International Services and Director of the BBC World Service, says: "We are delighted to welcome Paa Kwesi Asare to BBC News. Paa Kwesi is a rising star in African journalism. A passionate advocate for African stories, we are excited to have him join the BBC to continue Komla Dumor's legacy of telling the stories that matter to Africa."
READ ALSO: BBC apologises after 'Manchester United are rubbish' appears on screen