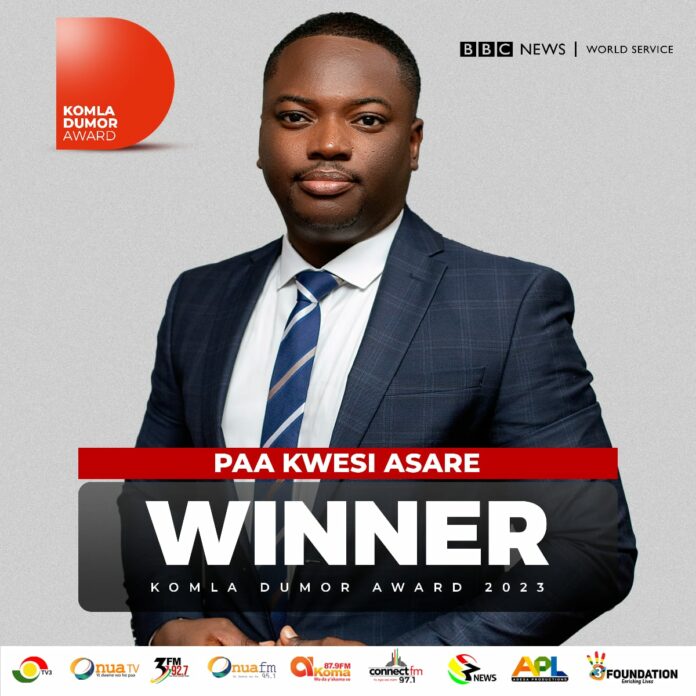 For his reward for the honour brought to the Media General family, management of the media conglomerate has given Paa Kwesi Asare $10,000.00 for clinching the 2023 BBC News Komla Dumor Award.
For being the first Ghanaian to win the prestigious award instituted on the legacy and memory of a late Ghanaian journalist who worked with the BBC, Paa Kwesi Asare has led the path in bringing home what 'belongs' to Ghana.
Madam Norkor Duah, a member of the Board of Directors of Media General who presented the cheque to him on News360 Monday, August 21, 2023 said "you brought honour to this company and to Ghana, to have won this award is just by God's grace."
She expressed optimism for Paa Kwesi during the time he is going to be with the BBC, knowing how he has transformed for the 7 years he has been with Media General.
READ ALSO: Player of the month awarded with crates of eggs
"For seven years you have grown into the sort of person who deserves to be given this award, congratulations. We know with your period with BBC you are going to shine, the sky is your limit," she prayed.
Mr. Asare was grateful to his employees for the confidence reposed in him and promised to keep up the good work to get the brand globally recognized.
"I also want to say a big thank you for reposing so much confidence in me."
Paa Kwesi will be spending three months working with BBC News teams in London across television, radio, and online as part of the conditions for the award. He will be given the opportunity to further develop his journalism skills through training, workshops, and mentoring with leading BBC journalists.
The award was created in 2015 to honour the memory of Komla Dumor, a presenter for BBC World News who was known for his commitment to reporting African stories comprehensively and authentically.
READ ALSO: 2023 BBC News Komla Dumor Award: I was a lot more passionate, determined this time – Paa Kwesi shares distinguishing factor