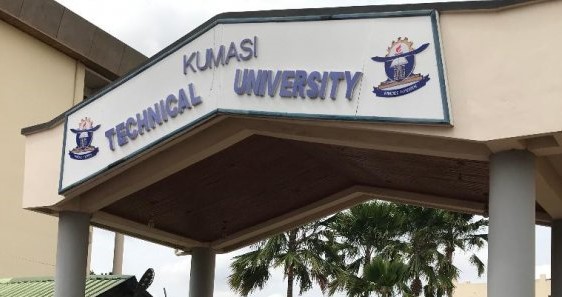 The Academic Board of the Kumasi Technical University has rescinded its decision to prevent some students numbering over 600 to write their second semester examination for not meeting their registration deadline.
It was resolved at an emergency meeting on Monday, August 14, 2023, that, a special examination is going to be organised for the affected students but on a condition that they pay their fees in full.
This was contained in a press statement issued on Tuesday, August 15, 2023 by the University.
READ ALSO: He listened to advice – Otumfuo extols former President Kufuor at University of Oxford
Background
Over 600 students of the Kumasi Technical University were prevented from writing their second semester examination because they could not meet the registration deadline.
The students who became stranded appealed to the Academic Board of the University to allow them write the exams, although they had been granted a deferment opportunity by the University.
OnuaOnline sighted about six threads of notices served on the affected students as a reminder.
The first notice which was dated May 29, 2023, had the caption "EXTENSION OF ONLINE COURSE REGISTRATION" announcing an extension of the Online Course Registration to "Monday, June 5, 2023.
READ ALSO: Wa Technical Institute: 3 students in police grips for attacking housemaster
On July 11, 2023, another notice was released with the headline "MOP UP ONLINE COURSE REGISTRATION", announcing the portal for the registration process.
Another notice issued on July 27, 2023 also gave a deadline extension to "Thursday, 3rd August 2023" after the "Friday, 28th July 2023 deadline."
A final notice issued on August 11, 2023 urged students who failed to register to defer their courses, a directive from the Academic Board of the University stated.
"They haven't been withdrawn. They have been deferred" Joshua Appiah acting University Relations Officer indicated.
READ ALSO: 2023 BECE: GES set to release short code for confirmation of schools selection for candidates
However, spokesperson for the affected students, Silas Adofo Denkyira told OnuaOnline "we know we have erred but, they should temper justice with mercy. The economic situation would not allow us to meet the deadline. We want to write the exams now."
President of the Students' Representative Council, Kwadwo Mensah said, the student leadership is still discussing with the Academic Board to find a common ground.
"Management put out notices but students could not register because they complain of economic hardship. We understand the issue and the SRC is not redundant," he indicated.
READ ALSO: KsTU, CIMAF Ghana train over 300 artisans in new building technologies