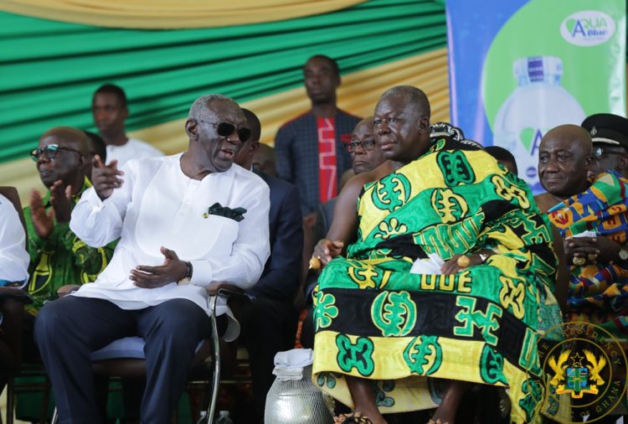 The Asantehene, Otumfuo Osei Tutu II, has lauded former President Kufuor for the leadership traits he exhibited whilst serving as first gentleman of the land, an attribute he still exhibits.
John Agyekum Kufuor according to the overlord of the Asante Kingdom was a listening President who made a lot of sacrifices for the nation.
In a toast to the former President at his alma mater, Exeter College, University of Oxford, in the United Kingdom (UK), where Kufuor was honoured, Otumfuo said: "The little that I knew about him at that time and this time is that he was a listening president," and "He listened to advice."
READ ALSO: Captain Smart reveals what Kufuor did when he told him he was seriously involved in galamsey
READ ALSO: Accusations of desecrating Prof. Mills' tomb 'false, malicious' – Akufo-Addo
According to the Asantehene, even though Kufuor did not have the means to become President, making his own party folks give up on him, he was determined and achieved his aim to serve his nation.
"This is a man who didn't have money and even his party executives gave up on him to be the president and yet, destiny had it that he was going to be president and he became the president," the Asantehene said.
Adding further to the sacrifices of the former President, Otumfuo recounted that J.A. Kufuor had a motor accident while on his way to the Castle, the seat of the presidency at the time, but still went to work and performed his duties until 4pm before heading back home.
"This is a man who sacrificed his life for Ghana," Otumfuo noted.
READ ALSO: Call for Ofori-Atta's dismissal: Kufuor denies engaging 98 Majority MPs