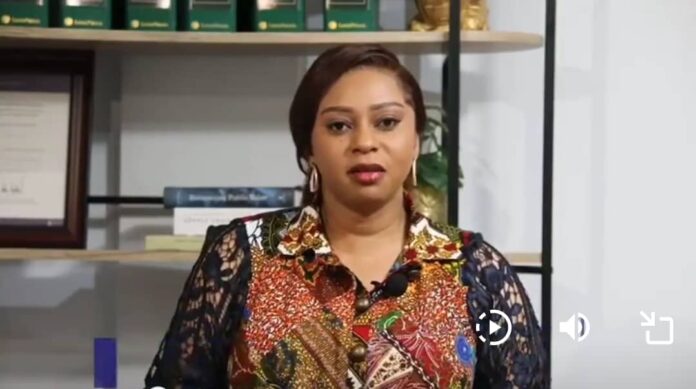 The Member of Parliament for Dome Kwabenya, Sarah Adwoa Safo, has rendered an apology to the leadership, sympathisers and supporters of the New Patriotic Party (NPP), as well as her constituents for "an attitude I put up some time past."
In a video shared by the lawmaker on social and sighted by OnuaOnline, Madam Adwoa Safo said whatever ensued at the time was as a result of certain things in her life beyond her control.
She has therefore asked those who got affected in one way or the other, by her attitude at the time, to forgive her.
"I want to use this opportunity to apologise to my party members, the New Patriotic Party and leadership of the party. Firstly, President Nana Addo Dankwa Akufo-Addo, his Vice, our mother the Chief of Staff, Frema Akosua Opare, the Majority Leader and the entire leadership of Parliament, my fellow Parliamentarians, the Majority caucus, I want to use this opportunity to apologise to you all for an attitude I put up some time past. It wasn't intentional for me to do that or disregard the House but so many things were going on in my life and family and I use this opportunity to plead with you all in the name of God [to forgive me]" she said in a video posted on Facebook.
She extended the apologies to her "Regional Chairman, Constituency Chair, General Secretary, [National] Chairman and all the other executives, supporters and sympathisers of the party, I apologise to you all to forgive me. A proverb from our elders say when a child soils your limbs with feces, it is cleaned and not amputated."
READ ALSO: BREAKING: Speaker dismisses Majority caucus' motion to declare Adwoa Safo's seat vacant
The Member of Parliament for Dome Kwabenya absented herself from sitting for more than the stipulated 15 days according to Ghana's Constitution and the parliamentary regulations.
The Majority caucus where she belongs wanted her seat declared vacant but was opposed by the Minority MPs who felt she should be heard first.
Speaker Alban Bagbin also questioned the authority of the NPP to declare her seat vacant after some MPs announced that their colleague's seat has been declared unoccupied pending a by-election.
In March 2022, the Majority Leader, Osei Kyei Mensah Bonsu, disclosed that Sarah Adwoa Safo had requested a month-long leave from the House but stayed beyond the time.
Subsequently, the Speaker on May 4, 2022, referred Adwoa Safo and two other individuals inclduing Henry Quartey, MP for Ayawaso Central and Kennedy Agyapong, MP for Assin Central to the Privilleges Committee for hearing on their case. The other two MPs had also absented themselves for more than the required period.
The two other MPs appeared before the committee and were cleared except for Adwoa Safo who remained absent but rather chose to be posting videos on tiktok, throwing jabs at her critics. The Speaker promised to rule on the matter after the House had returned from recess but has since never been mentioned.
READ ALSO: Adwoa Safo's fate: Majority to challenge Bagbin's ruling on Dome Kwabenya seat – Kyei Mensah-Bonsu declares