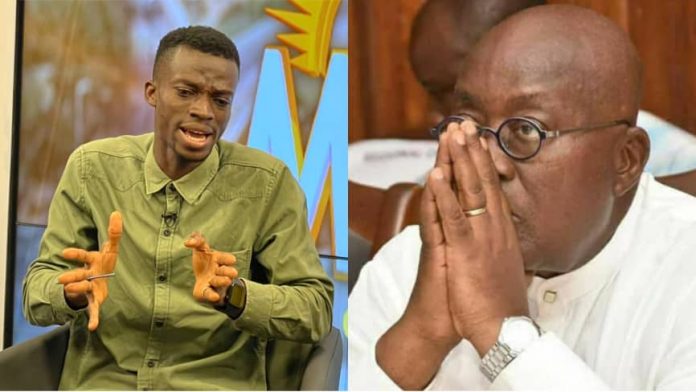 Youth activist and social commentator, Ivan Innocent Kyei is saying President "Akufo-Addo must be chased out of office."
The four year wait before effecting changes at the presidency according to Mr. Kyei is too long a duration for Ghanaians to endure incompetence leadership, the reason he says the president must be chased out.
He believes Ghana can thread the path of Sri Lanka who has paved the way to peacefully chase out the president.
Citizens of Sri Lanka took over the seat of the president during their protests to register the high cost of living to leadership.
They entered the President's mansion, sat on his dining table, swam in his pool, slept on his bed, bathed in his bathroom and a host of other activities.
The protest has led to an announcement by the president saying he will resign Wednesday, July 13, 2022.
Speaking on Onua TV/FM's morning show 'Maakye', with Captain Smart Tuesday, July 12, 2022, Mr. Kyei emphasised the need to replicate the civil action from the Asian country to oust the president.
His comment stems from the extravagant and wasteful government expenditure and mismanagement of the economy that has led to the country seeking a bailout from the International Monetary Fund.
"We should force the President to resign because they have proven that they don't have a clue. They have misused the huge sums of money they got from the Covid-19.
"Boris Johnson did not do half of what Nana Addo is doing yet has resigned. Ghana is the next Sri Lanka in the making because the economy is crashing.
"Your economy is in such a state that you're going to IMF yet you're spending $200million to build a cathedral, flying in private jets and to think the IMF will give us money to redeem ourselves from this mess is a joke. Planting for foods and jobs vehicles are wasting fuel by transporting people's goods without any benefit for the country. Nana Addo is a president of a joke," he said.
By Felix Anim-Appau|Onuaonline.com|Ghana