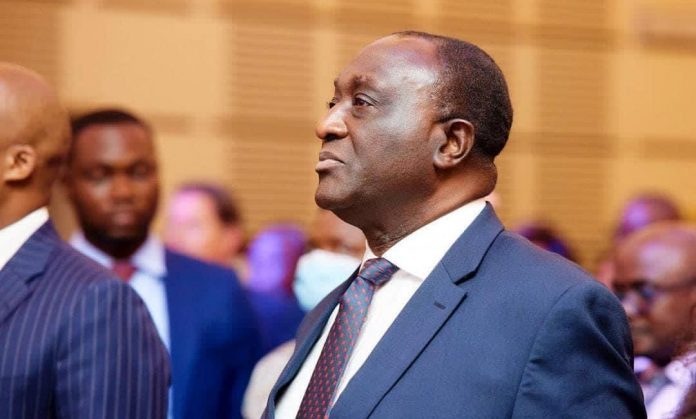 Alan John Kwadwo Kyerematen, a flagbearer hopeful of the New Patriotic Party has on Monday, September 5, 2023, withdrawn from the context scheduled for November 4, 2023. 
"In light of the foregoing, I wish to confirm that I am honourably withdrawing from the process that will lead to the Presidential Primaries to be held on the 4th of November 2023. In the next upcoming weeks, I will provide an indication of the role that I will play in politics in Ghana, after consultations with my family and other well-wishers, various stakeholders and interest groups," he said in a statement.
He has cited intimidation of his agents during the party's special delegates' conference as part of the reasons for his resignation. Mr. Kyerematen placed third in that exercise.
According to the statement, the process has also been skewed to favour one candidate.
"The level of intimidation of varying intensity, directly and indirectly, unleashed on a significant number of Delegates at various Voting Centers across the sixteen regions, is unprecedented in the history of our Party.
"In addition, the fact that my Polling Agent in the North East region has suffered severe damage to his eyesight, arising from his bold and courageous effort to ensure compliance with the very rules and regulations for the conduct of the elections as approved by the Presidential Elections Committee, will forever remain a dark spot in the history of internal elections within the Party. This incident and various acts of violence and collusion, reported in other Voting Centers, are appalling, unconscionable, and despicable. I am committed to, and value the safety of those who work with me and for me, and I will always fight for their interest," he pointed out.
He extended his goodwill messages to the remaining candidates.
"I wish all the other Aspirants well as they continue on their journey. I also wish to use this opportunity to express my profound gratitude once again to my family, the Alan 4 President (A4P) Campaign Team, and all my teeming supporters in Ghana and from around the world, who have supported me in diverse ways over the years. Please be assured that the battle is still the Lord's, and that those who wait upon the Lord shall have their strength renewed".
Mr. Kyerematen's resignation leave four candidates in the race, who are Vice President Dr. Mahamudu Bawumia, Assin Central MP, Kennedy Ohene Agyapong, former Agric Minister Dr Owusu Afriyie Akoto and former MP for Mampong, Francis Addai-Nimoh.
There will be balloting for the remaining candidates after Boakye Kyeremanteng Agyarko withdrew from a tie breaker run-off between himself and Francis Addai-Nimoh which was scheduled for Saturday, September 2, 2023.
He disagreed with a National Council election instead of a 955 delegation which voted in the earlier contest.
"I refuse to be a part of such an act that seeks to unjustly truncate a previously agreed upon process, and cannot be part of what is about to be done on Saturday, 2nd September 2023. I cannot, with a clear conscience make such an impermissible concession to such an errant decision. I, therefore, respectfully, serve this notice to refrain from such a contest. As always, I wish the party well," he said in a letter addressed to Prof. Aaron Mike Oquaye, Chairman of the NPP's Presidential Elections Committee, dated August 31, 2023.
READ ALSO: NPP flagbearer race: Ejisumanhene sticks his neck out for Alan Kyerematen's victory