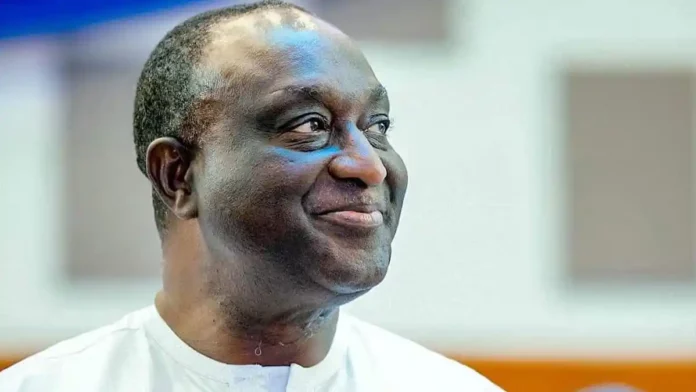 A professor of Political Science at the Kwame Nkrumah University of Science and Technology (KNUST), Samuel Adu Gyamfi, has said the New Patriotic Party's (NPP) Alan Kyerematen has paid his dues for the party.
He says the former Trade and Industry minister wanted to extend his service beyond the NPP to the whole country at large, but is uncertain how well he will fare in the presidential primary slated for November 4.
Speaking on TV3's Midday Live Tuesday, September 5, 2023, Prof. Adu Gyamfi said "history would absorb him (Alan Kyerematen)"
"He has paid his dues so far and he wants to be able to do more for Ghana, make a significant contribution beyond his significance around this time. He is not too sure whether he will be successful at that through this primary. However, I'm sure history would absorb him," he said when asked of Alan Kyerematen's future with the NPP.
READ ALSO: NDC holds campaign strategy for Alan as NPP flagbearer to chest
Mr. Kyerematen on Monday, September 5, 2023, withdrew from the NPP flagbearer context citing skewing of the process in favour of one candidate, aside from his agents who were maltreated in the special delegates' conference.
"In light of the foregoing, I wish to confirm that I am honourably withdrawing from the process that will lead to the Presidential Primaries to be held on the 4th of November 2023. In the next upcoming weeks, I will provide an indication of the role that I will play in politics in Ghana, after consultations with my family and other well-wishers, various stakeholders and interest groups," he said in a statement.
"The level of intimidation of varying intensity, directly and indirectly, unleashed on a significant number of Delegates at various Voting Centers across the sixteen regions, is unprecedented in the history of our Party.
"In addition, the fact that my Polling Agent in the North East region has suffered severe damage to his eyesight, arising from his bold and courageous effort to ensure compliance with the very rules and regulations for the conduct of the elections as approved by the Presidential Elections Committee, will forever remain a dark spot in the history of internal elections within the Party. This incident and various acts of violence and collusion, reported in other Voting Centers, are appalling, unconscionable, and despicable. I am committed to, and value the safety of those who work with me and for me, and I will always fight for their interest," he explained in a statement.
READ ALSO: Politics and religion are two sides of the same coin – Alan Kyerematen to clergy
Mr. Kyerematen's resignation leave four candidates in the race, who are Vice President Dr. Mahamudu Bawumia, Assin Central MP, Kennedy Ohene Agyapong, former Agric Minister Dr Owusu Afriyie Akoto and former MP for Mampong, Francis Addai-Nimoh.
There will be balloting for the remaining candidates after Boakye Kyeremanteng Agyarko withdrew from a tie breaker run-off between himself and Francis Addai-Nimoh which was scheduled for Saturday, September 2, 2023.
He disagreed with a National Council election instead of a 955 delegation which voted in the earlier contest.
"I refuse to be a part of such an act that seeks to unjustly truncate a previously agreed upon process, and cannot be part of what is about to be done on Saturday, 2nd September 2023. I cannot, with a clear conscience make such an impermissible concession to such an errant decision. I, therefore, respectfully, serve this notice to refrain from such a contest. As always, I wish the party well," he said in a letter addressed to Prof. Aaron Mike Oquaye, Chairman of the NPP's Presidential Elections Committee, dated August 31, 2023.
READ ALSO: NPP flagbearer race: Ejisumanhene sticks his neck out for Alan Kyerematen's victory