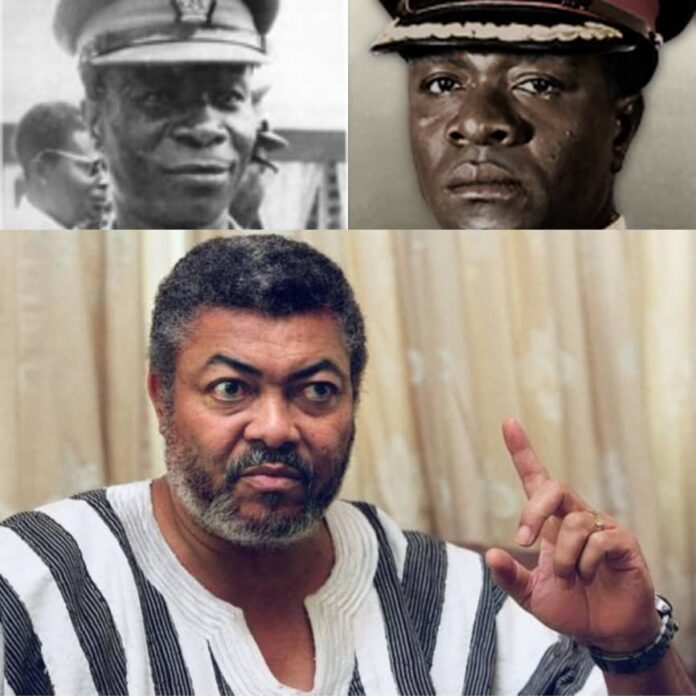 "When hell is brought on to innocent people over a sustained period, without any cause to redress, anarchy begins to exude the fragrance of a safe and viable home."
I do not wish to be the bearer of bad news in this piece. But just like Paul in the Bible, sometimes letters that warn of the doom that stare us in the face ought to be written, not from a place of political correctness, but one of brutal honesty that speaks truth beyond power.
In recent years, the term "Coup Belt" has been used as a modern geopolitical concept and coinage to describe the regions of West Africa, Central Africa, and Sahel that have built the unpleasant reputation of producing military coups. Over the past three years, we've seen the admission of Niger, Chad, Mali, Guinea, Sudan, Burkina Faso and Gabon into the belt. The first observation to note here, is that Ghana is not special beyond any of these countries.
I know our long celebrated democratic stability has the potential to blind us to this fact and draw us into an unrealistic bubble that makes us feel immune to any of these extreme political consequences of instability. But from the examples cited above, when hell is brought on to innocent people over a sustained period, without any cause to redress, anarchy begins to exude the fragrance of a safe and viable home.
Dating back to the "dead goat syndrome" of 2015, through the "fix the country" protests of 2021, where protesters were assaulted, illegally detained, to the "#OccupyJulorbihouse" protests of 2023 where the police despite not securing an injunction, meted out actions that distorted the protest, the Government of Ghana is gradually building a governance profile that will soon replicate the scenes in Niger, Mali, Sudan, etc.
We have become a state that is not just intolerant to critique, but outrageously insensitive to protests and the abuse of human rights that go on during these protests, worryingly, under the administration of a president who prides himself in his protest efforts of the past.
After massive illegal police arrests and distortions on the first day of the "#OccupyJulorbihouse" protests, the front pages of major newspapers were filled with everything you can think of except coverage of the protests. The nonchalance and insensitivity being shoved on our faces has become unbearably harsh.
I wonder if the sitting president would have ever had the courage and belief to protest under an administration such as his.
For me, and for many, the fear is that 2024 may be too far away, but I hope it does not. It is true that coups have visited our West African sub region in recent years. However, for many of the countries affected, the visits were not unannounced.
In Gabon, protesters were killed and wounded for protesting in 2021, the country turned into one which silenced citizens amidst their suffering, before the coup happened; Niger saw their protests suppressed in 2021 and 2022, before the coup in 2023; Sudan watched on as protesters were killed in 2019 and 2020, before the 2021 coup; Burkina Faso also had massive police resistance to protests in 2020 and 2021, before the coup in 2022.
Countless announcements and hints from protests that were either suppressed or massively distorted were ignored until the last straws left the sack bag of the Cameleer.
Ironically, all governments overthrown by coups today, used state security institutions to suppress civilian protests and deny civilians the room to exercise their constitutionally mandated rights. In the end, these same security agencies, usually the military, turned around and seized power from these insensitive governments.
What this communicates in the loudest voices you could ever think of, is that, these security agencies are usually not believers in the suppression and resistance they are made to subject civilians to during such protests; they ultimately do it out of their oath to follow orders until they master the courage to stand with the people who deserve their allegiance.
Ultimately, if service men in various security institutions were given the least opportunity to equally demonstrate their grievances peacefully just as civilians do, leadership and society would understand why a media friend of mine told me service men and women in the military and other security agencies always urge them to go on with their criticisms, because they are cruelly bound to silence by virtue of their profession.
Essentially, the people insensitive governments use to intimidate innocent civilians, are the very people who become nauseated by their deeds and oust their governments.
It's no surprise that a very popular line in one of the Methodist Hymnals that says '
"I need no other argument, I need no other plea, it is enough…", communicates the crucial fact that eventually, there comes a point where as a collective, we all recognize that it is enough.
So as I write this, it is time to listen. Ghana is not immune to coups and our political history prior to the Fourth Republic, speaks for itself.
It is time for politicians, celebrities, civil society organisations, religious leaders, traditional leaders, businessmen, international organisations and everyone who cares about sustaining the Ghanaian democracy to speak up and secure redress, accountability and progress that would retain trust in the system among citizens.
This is the tough conversation no one wants to have and that is why I chose to have it. The country is currently in an economically volatile state. This is not the time to create a breeding ground for political instability; the national pot won't survive that combination.
This piece can be considered many things, but ultimately, it is the public rant of a youth who is frightened by where the country is headed. I know many share this fear, and so it is time our leaders realise that they are edging closer to the point of no return and the window to make that return is getting smaller as the nonchalance of government
rises.
I hope they listen to the public cry and do the right thing, we may not have long before the coups visit; before we become the newest members of the belt.
The writer, Andrews Terku Terkpertey , is a former student of KNUST who read BSc. Biological Sciences and a 2023 Doha Debates Ambassador.
READ ALSO: Andrews Terkpertey writes: The Jumping Prices; How inflation leaks its way to the everyday customer